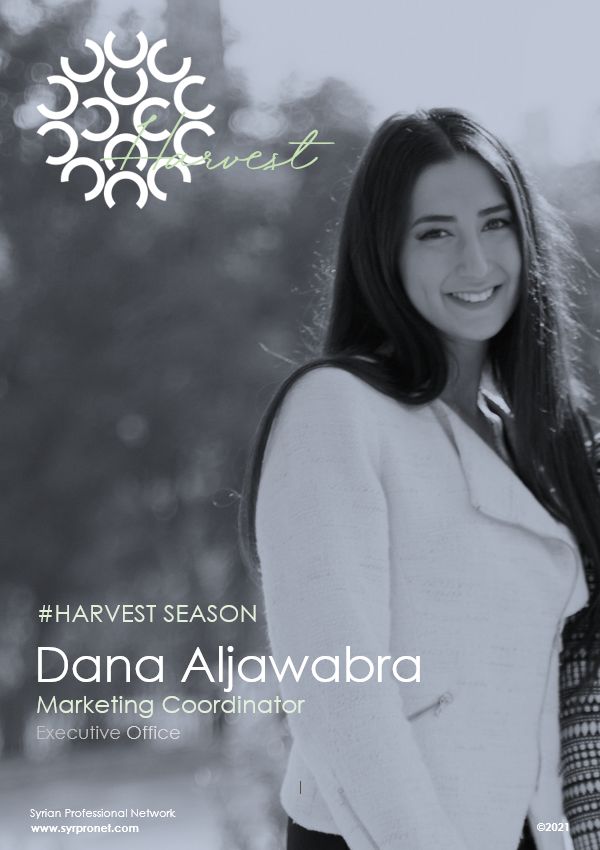 Dana is a Media communication graduate and specialized in Integrated Marketing and PR. She started working as a news website editor, then a RS coordinator in the Four Seasons Hotels and currently a marketing coordinator at Cham Wings Airlines. Her diverse carrier path gave her the mindset to tackle the communication challenges.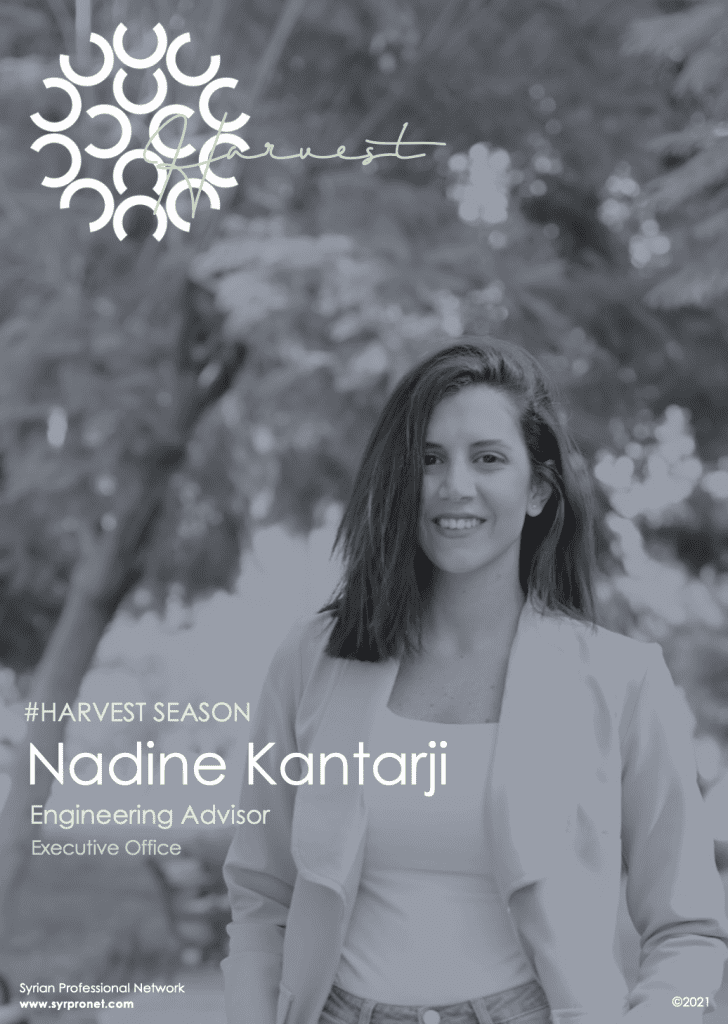 Nadine has graduated from Damascus University as Telecommunication engineer, she worked as Radio/Site Engineer, responsible for monitoring the 2G/3G coverage, and currently she is the Information Technology Assistant Manager at Four Seasons Hotels and Resorts-Damascus. Aside from being passionate in everything related to Data Science and Analysis, Nadine enjoys sports and learning new languages. Nadine will maintain the regularity of Syrpronet's current engineering projects.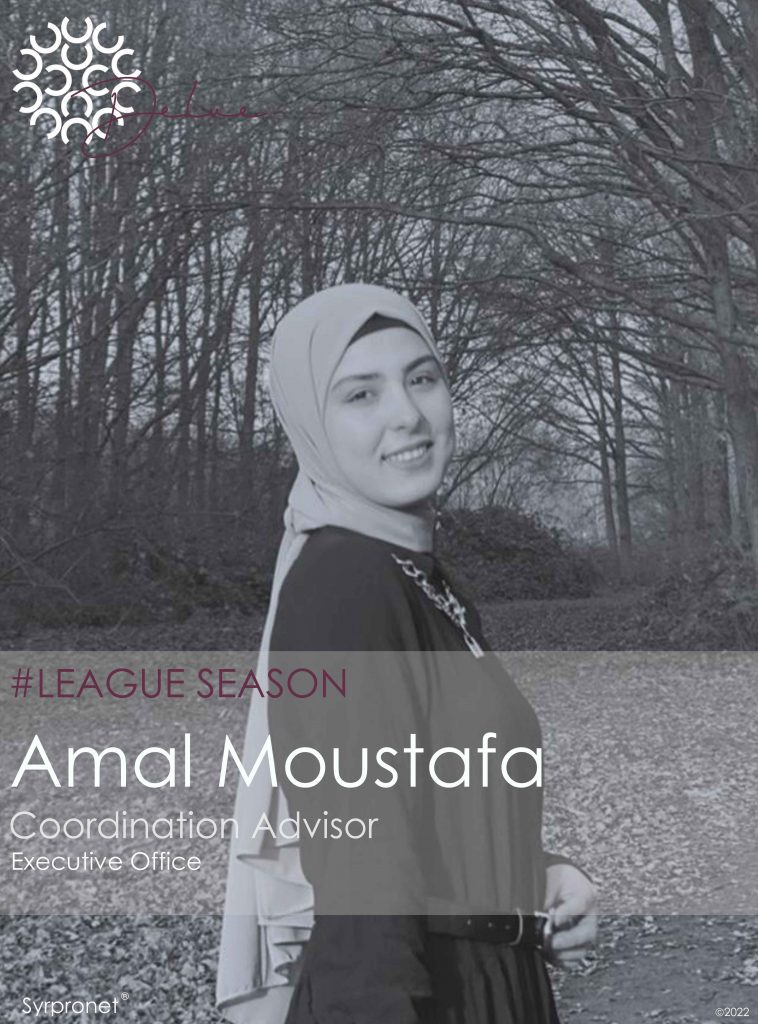 Amal is a VWO student and in addition she is a part of Network New Rotterdam, she participates in various activities there such as helping children with their homework, helping the newcomers learn the Dutch language and discussing together how the work can be developed to be able to offer help to others and to make Rotterdam a better place. Thanks to all of that, she learns how to best communicate with people of different ages and of different circumstances. Above all, working with many people as one team helps her be more flexible and it increases innovation. Besides, discussing with many people on important issues is very useful and helps her develop for the better to see some topic from a different perspective.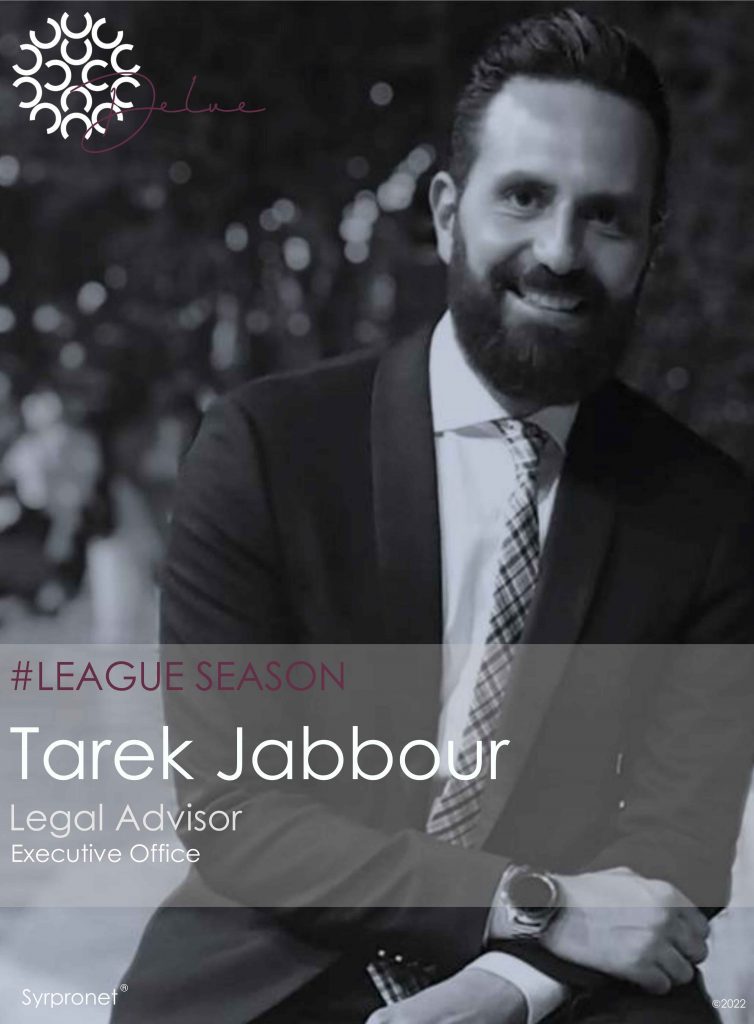 Tarek holds a Bachelor's Law Degree from Damascus University and three Masters' Degrees in Business Law from Paris II Pantheon-Assas University, European Business Law from Aix-Marseille University, and Common Law & Droit Comparé from Faculté de Droit, d'Économie et de Gestion He has been a legal consultant for 12 years, worked in Paris with high-caliber law firms such as Clifford Chance LLP, Herbert Smith Freehills LLP, and White & Case LLP, and recently inherited started to manage his late father's firm (Jabbour Law Firm). Tarek has significant transactional practice and expertise in arbitration and litigation in the areas of project finance, energy, and construction. Since Distributed Ledger Technology (DLT) and Smart Legal Contracts are being, and will soon, be deployed in use cases across the financial and industrial sectors, Tarek provides legal consultancy services on civil, corporate, labor law issues as well as on the compatibility of new innovations with the legal framework of regulated sectors such as the finance, media, telecommunications, IT as well as digitalization and startups, that enable practice-oriented and sustainable solutions for blockchain applications.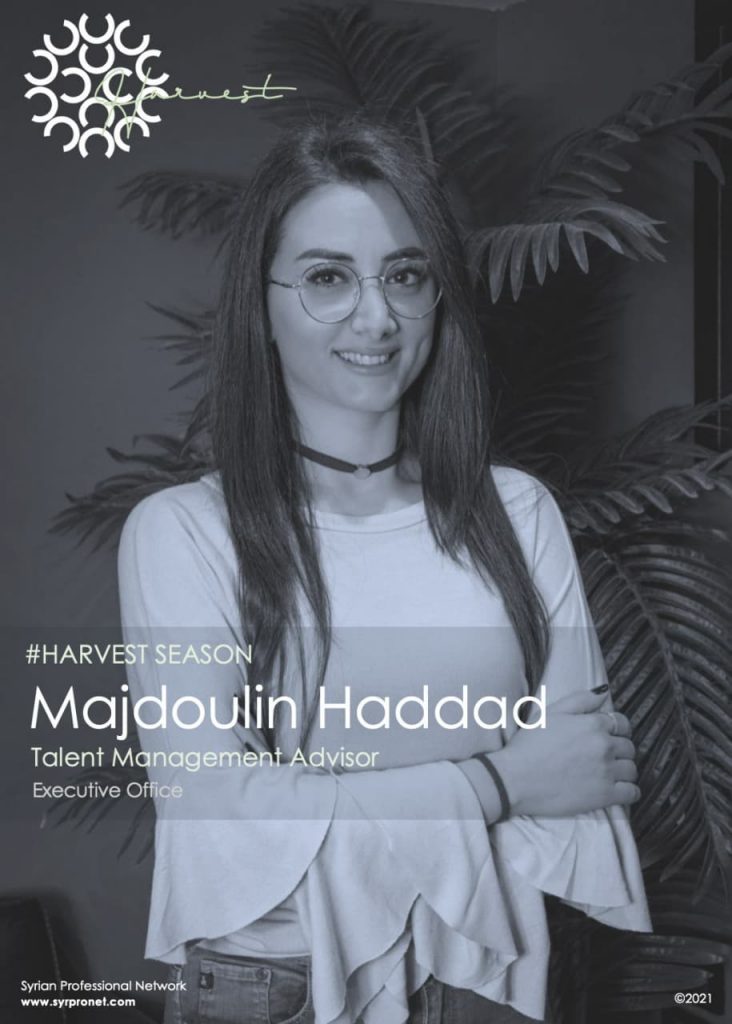 Majdoulin Haddad, Executive Talent Management Adviser. Passionate Human Capital Consultant, Talent Acquisition and Trainer with 8 years of extensive and integrated experience in all human capital management's functions. Majdoulin holds a Master degree in Business Administration - Human Resources dept., and she works as Human Resources Manager in E- Learning organization in MENA region. With Personal Mission of "Invest in People" she seeks working environment that revolves around talents in organizations, what's attract them, motivate them and bring out the best in them, and through Talent Management, Majdoulin believes that organizations can have competitive advantages over others. Majdoulin investing her knowledge and experience in Training which she never considers it a job, but a hobby that fulfil her purpose in life along with reading, Hiking and spending time with family. Majdoulin will be responsible for finding and nourishing the talents for current and future professionals in addition to curating their development plans within the executive office.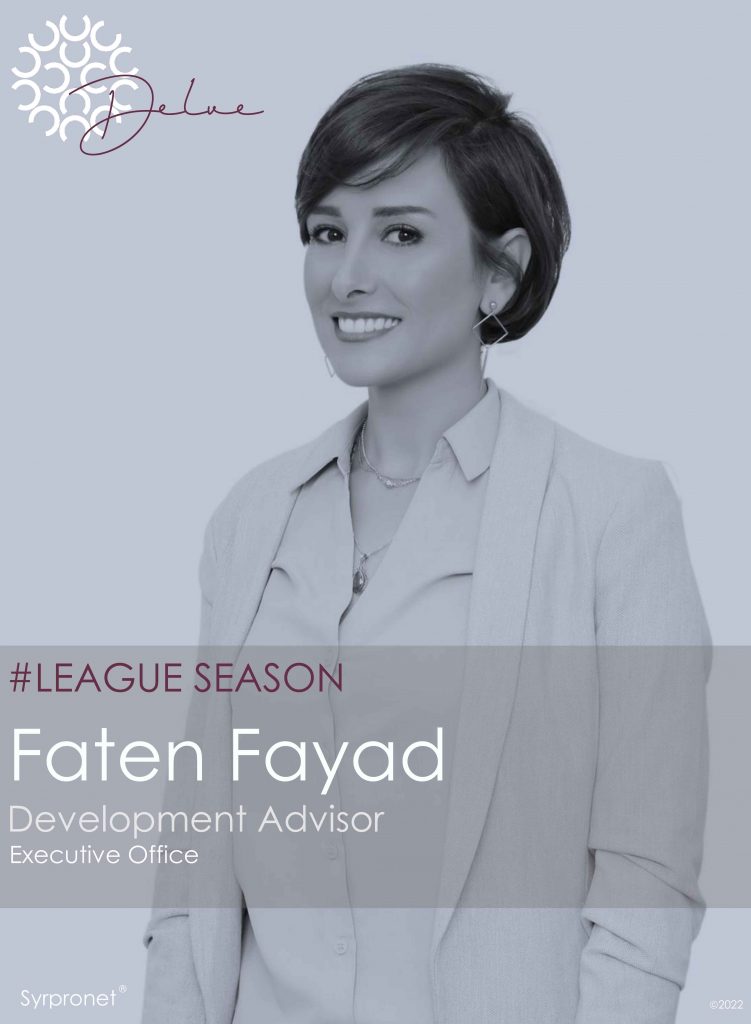 Faten is a Results-driven professional in Management Information systems, Business consultancy and project management, Strategic leader. She holds a bachelor's Degree in Information Technologies Engineering , EMBA- Executive Master in Business Admiration specializing "Finance" from Damascus University, And she holds PMP certificate from Project Management Institute Faten has more than 17 years of professional experience in information technology, and a successful track record of Management Software, Mobile Development, and Enterprise Solutions in telecom company and also she has a professional experience in Digital Transformation and business development in international company Her significant technical and managerial skills, were the result of a lengthy experience with hands-on many big projects with professional teams in the fields of software development and mobile applications. Faten believes that leadership is an art, and building the human and team is the most important element in the success and continuity, despite of the transformation to the digital world, where we must not forget the human skills are the backbone for progress especially in the virtual world that we currently live.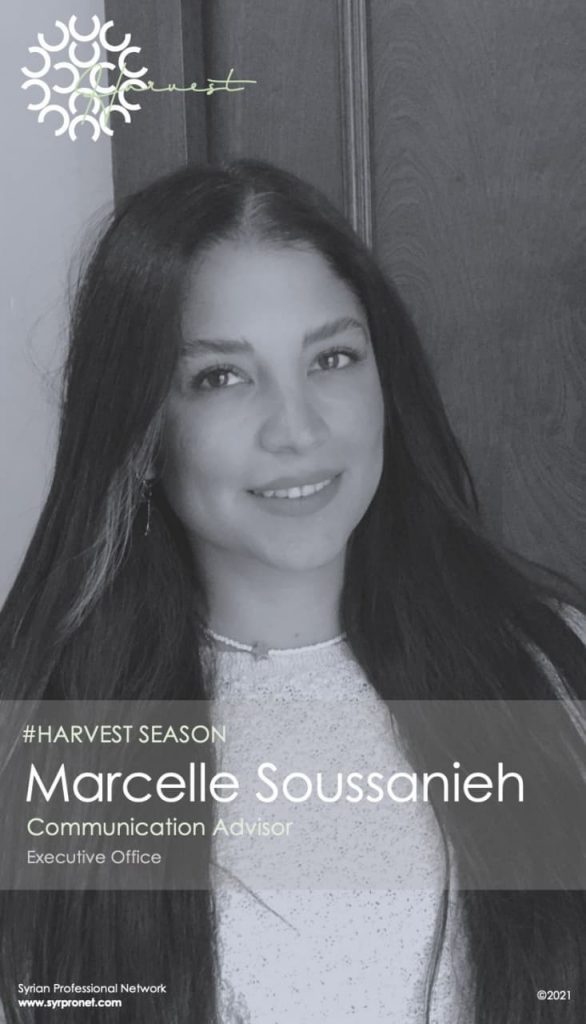 Marcelle has a Bachelor Degree in Banking & Insurance from Damascus University and a Master's degree in Business Administration, specialized in Marketing from Higher Institute of Business Administration. She is currently working as Payroll, Compensation & Benefit Supervisor in a telecommunication company, with 14 years of experience in the industry. Marcelle always tries to encourage and invest in her team's competencies, work on their skills, motivate them and exchange experiences for continuous development. Aside from her professional life, Marcelle enjoys swimming, drawing and dancing.
Adriana is a Senior year Medical student in Damascus University She is also a content creator in awareness team at Syrian Researchers Foundation in addition to her work holding medical awareness sessions. Adriana is interested in fashion and she enjoys painting starting from her belief that color is the power that directly influences the soul.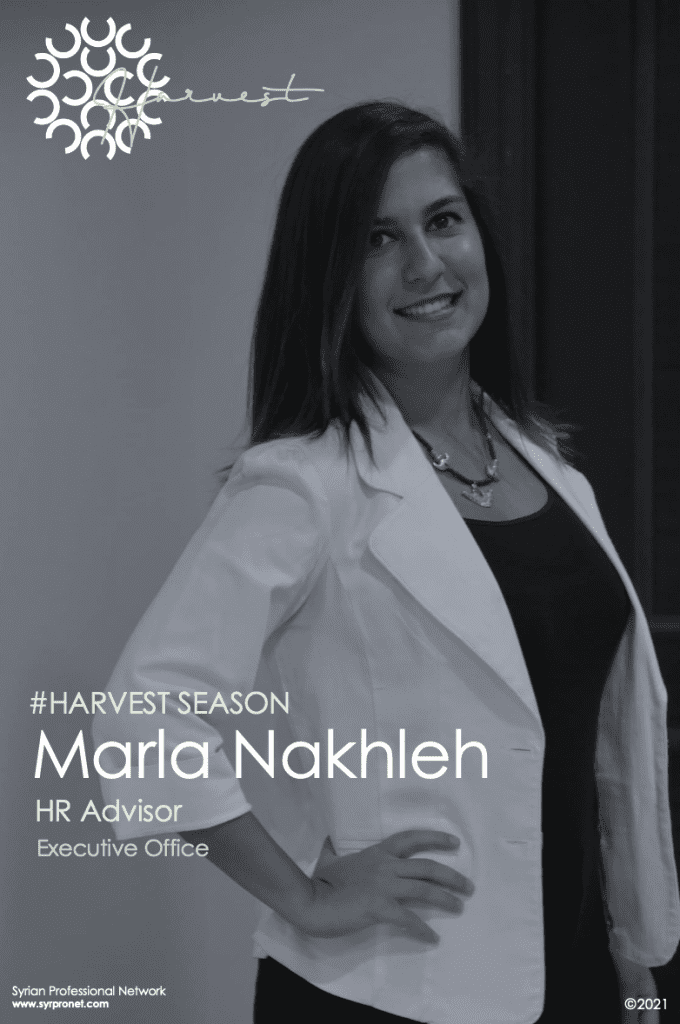 Marla is pursuing a Master degree in "Business Administration" from Higher Institute of Business Administration. She was awarded a Scholarship from Ministry of Higher Education in Damascus to complete her bachelor degree in Arab International University. Marla works as HR supervisor in telecommunication company, and developed a very diverse professional portfolio in the same field for over 8 years. she works in a team environment with professionals from the highest standard in the industry. The variety of her tasks has enhanced her academic and managerial skills since she has a passion in learning new methods and developing others. Therefore, she learned from her experience how to providing HR knowledge to firms, organizations and private businesses, Marla's hobbies are reading books, traveling and meeting new people.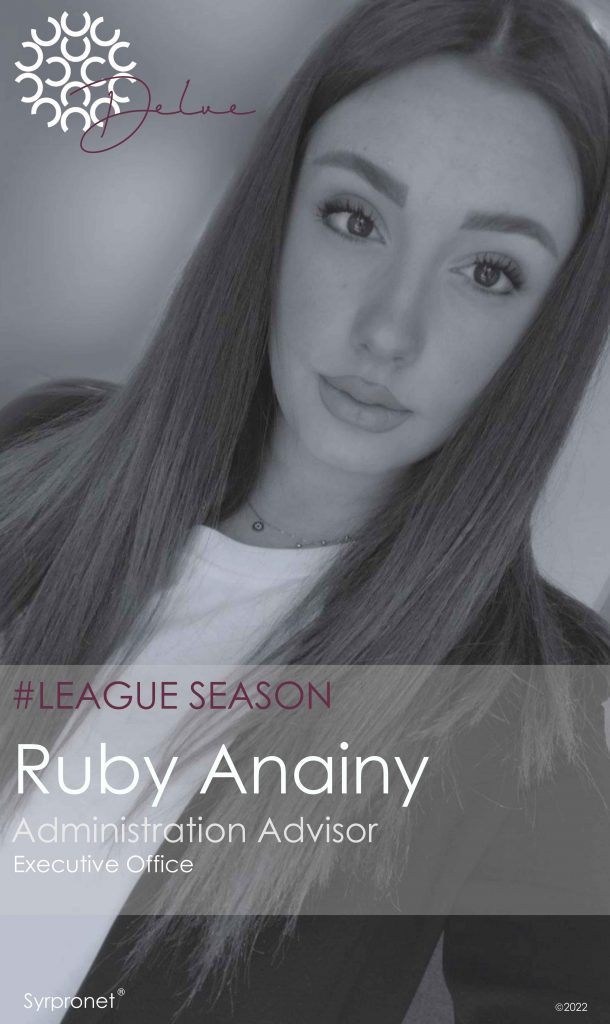 Ruby holds a Bachelor's Degree in Hotels Management from Faculty of Tourism - Damascus University. Ruby started her hotelier career as a Room Service Order Taker at Four Season Hotel Damascus and she is currently Executive Administrative Assistant to the General Manager Beside her work, Ruby is interested in Fashion, Styling & Beauty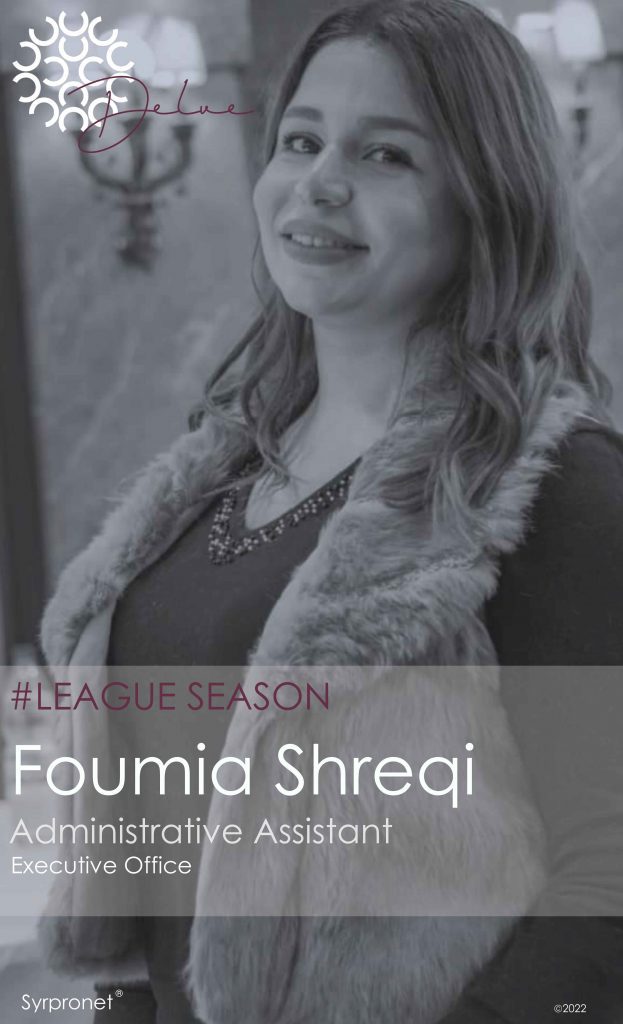 Foumia is currently completing her law degree at Damascus University. She has 6 years of experience in Administration Services; started as a receptionist at a telecom company, where her high performance and dedication quickly promoted Foumia to become a secretary, then the Admin Assistant for Human Capital Management Department. Moreover; Foumia is known for her lively and positive personality, time management, organizational and communication skills, and also trusted by her colleagues and management for her genuine tendency to help others, keep everything organized and for being comfortably able to work as a team player under high work pressure.