We strive to provide best work culture and freedom to our team.
Apart from being professionals, some of SYRPRONET's advisors act as representatives of the network around the globe in 25+ countries, while expanding the outreach of Syrian expertise that goes beyond academic and professional excellence. Their contributions help SYRPRONET reach larger audiences, create teams, introduce new industries to the network, and respond to their local market needs.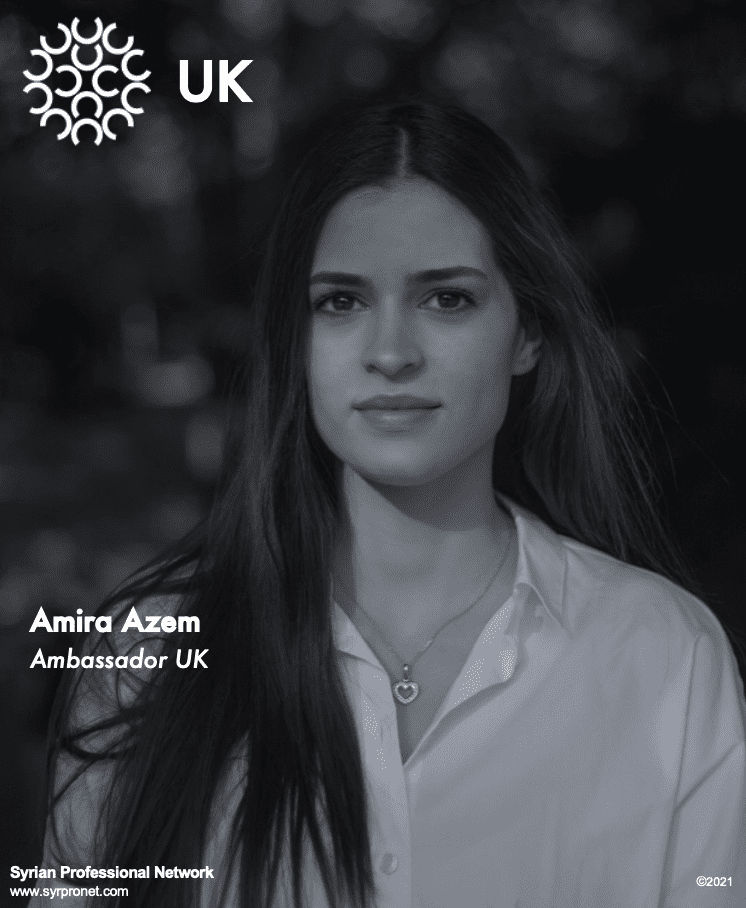 Amira is a Law LLB graduate from the University of Surrey and has recently completed her LPC and LLM Masters from the University of Law in the UK. She has spent her university years exploring and participating in extra-curricular activities and has held several positions of responsibility throughout. From being President and Captain of the Basketball Team, to Vice President of STAR (Student's Take Action for Refugees) Society to being a Signatory of the Arabic Society and many more. Amira is a firm believer that university is not just about academia. While academia is of high importance without a doubt, partaking in different activities is what builds on a character. Nevertheless, Amira enjoyed studying law and aspires to become a practicing solicitor in the UK. While she has worked in Immigration Law, she is not limited to one area and is highly interested in pursuing a career in the legal world.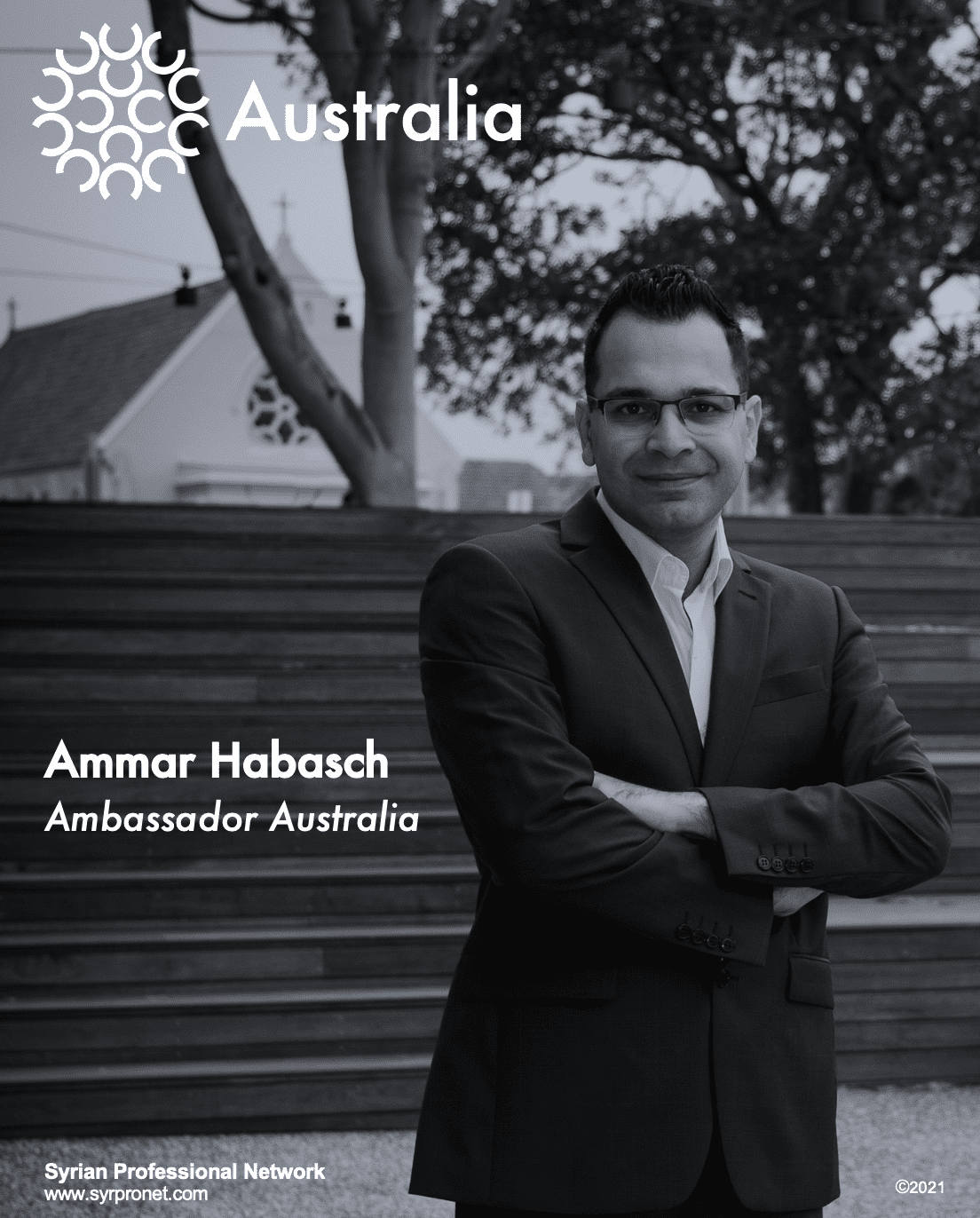 Ammar is a Strategic Planning Manager at the Victorian Planning Authority , he is a passionate urban planner and designer with over eleven years' experience in structure and framework planning, land use and economic strategies, urban design frameworks and complex stakeholder engagement. Ammar has worked in a variety of local and state government agencies, academic institutions as well as in the architectural design and delivery industries in Australia and internationally within the Middle East. Building on his architectural qualification from Damascus University and a Master of Urban and Regional Planning from the University of South Australia, Ammar is affiliated with several professional associations including the Planning Institute of Australia (PIA) and the International Society of City And Regional Planners (ISOCARP).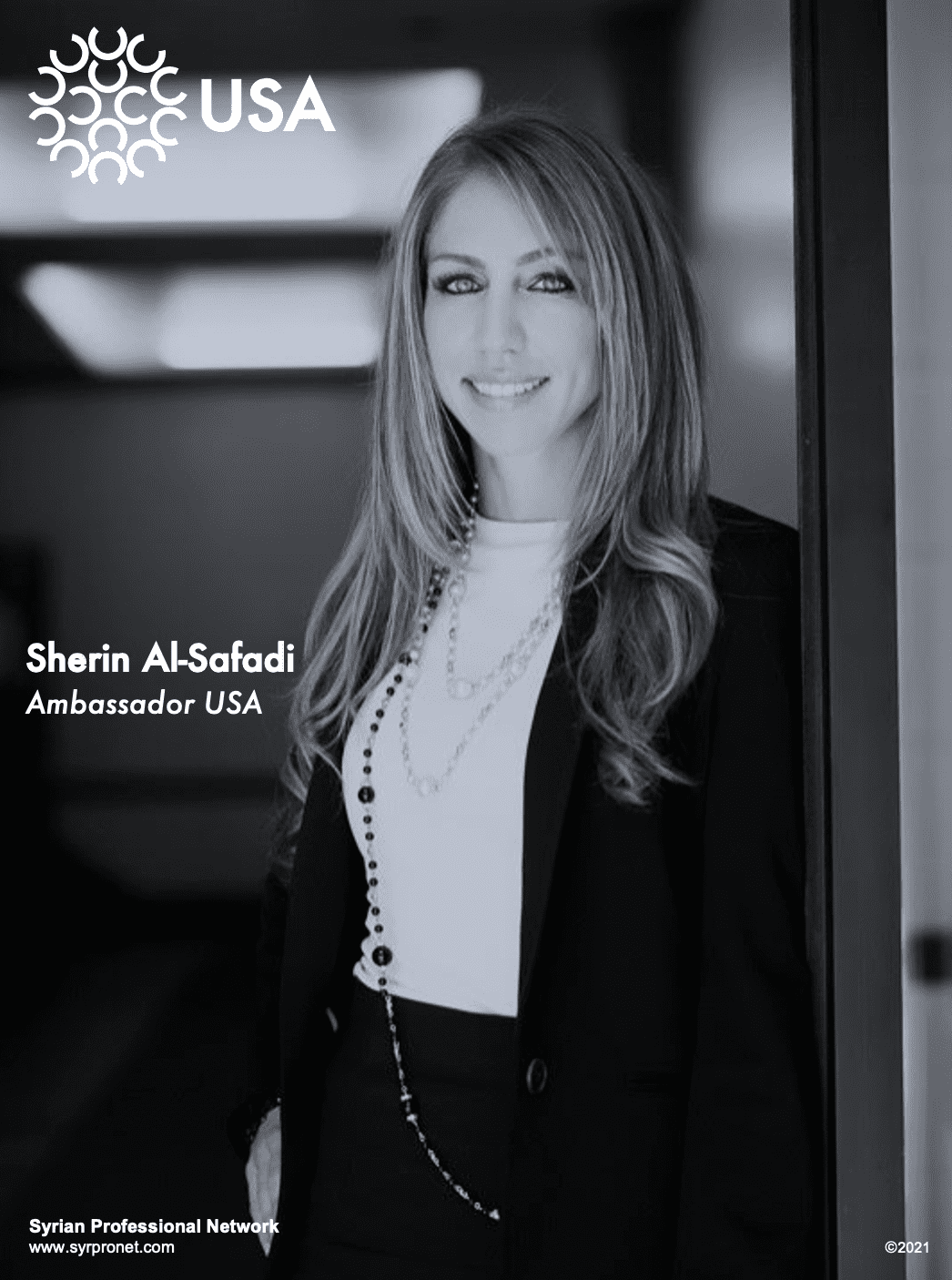 Sherin is currently pursuing her passion for #innovative patient-centric healthcare and translational medicine with Bayer, as a Global Medical Affairs Oncology Strategist, and with Balanced Biotech as Chief Medical Officer. Sherin attended McGill & Concordia in Canada, where she completed a B.Sc. in Anatomy & Cell Biology, M.Sc. in Pharmacology & Therapeutics, MBA in Entrepreneurship & Management and PhD in Neurobiology. She began her professional journey in Montreal and Toronto in advisor and managerial roles, prior to relocating to the #USA. Outside of work, Sherin is a proactive #philanthropist with a passion for driving social change. She co-founded and leads Fondation Amal - Partners, a Montreal-based non-profit that advocates for improving the quality of life of kids with chronic disease and disabilities, through a new generation of young philanthropists. Sherin is also a competitive #kickboxer; she has learnt the toughest life lessons in the ring and continues to apply them in her personal and professional lives.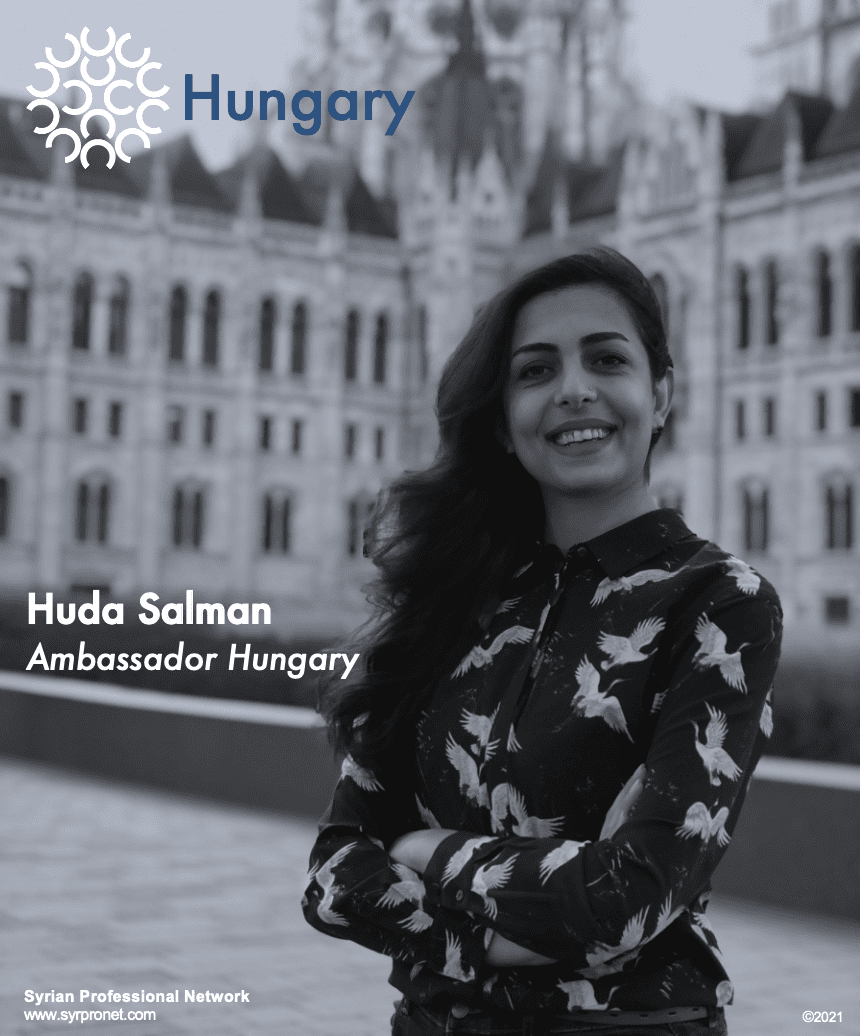 Huda is a pharmacist and healthcare specialist. She obtained her Master's degree with honors in Health Social Work (MSW) from the University of Debrecen in Hungary in 2019. She has a solid background in the pharmaceutical sales management and the medical devices sector with proven skills in market research and data management and analysis. Besides, she continues to take part in several volunteering activities at local and international NGOs. Currently, Huda holds the role of the World Youth Alliance Chapter Coordinator in Budapest, Hungary. She is passionate about humanitarian work and she loves traveling, cooking, hiking and socializing.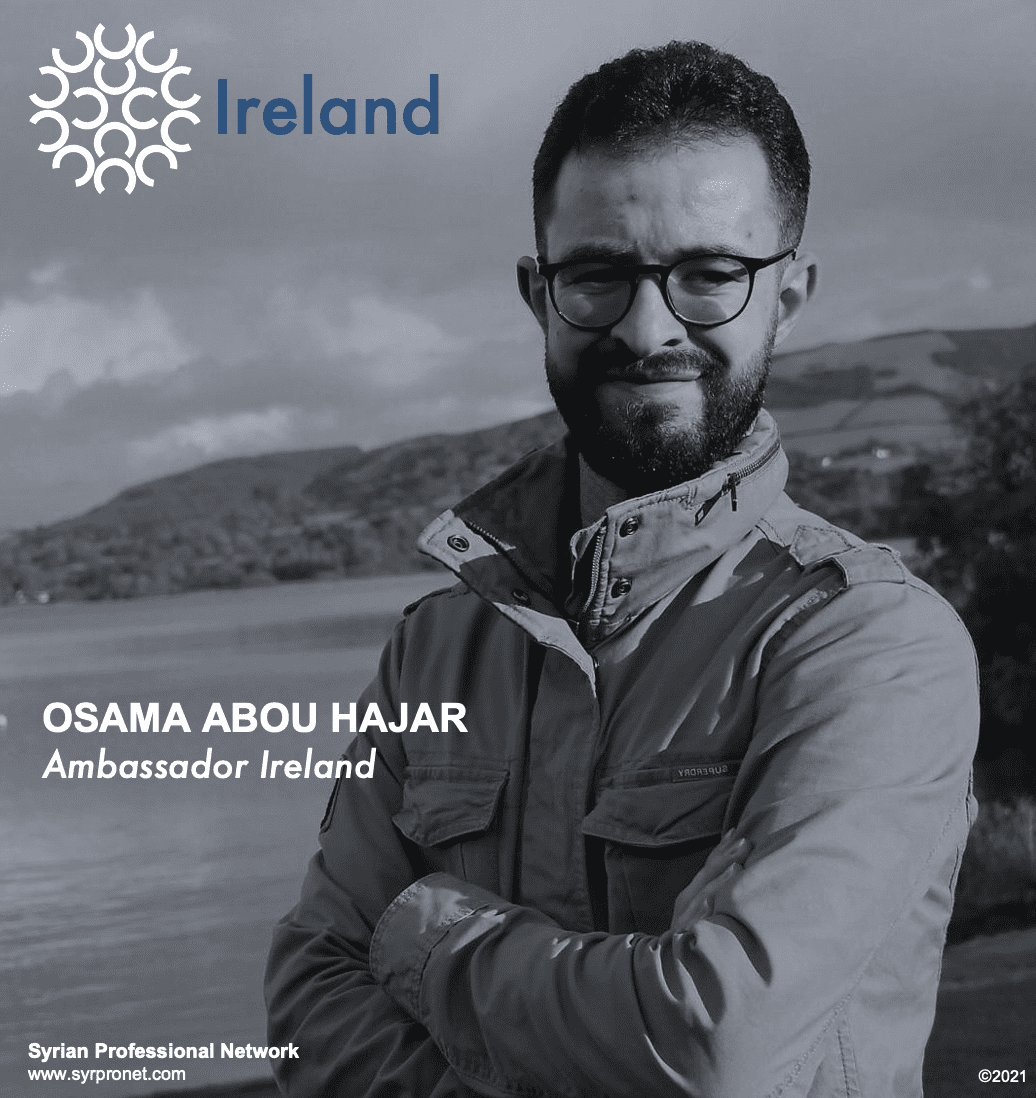 Osama a BSc. (Hons) Software Development, Working as a Software Engineer | 5G network developer at Ericsson, Former software Engineer at Workday California, Several years of work experience and working responsibility including that of a Computer technician, Graphic designer and Project Manager with a good knowledge of the business system structure and working with customers. Osama loves Photography, Music, Fitness and Volunteering work and he was part of a number of volunteering projects within different companies Such as Syrian Red Crescent, Nasa In Arabic, CoderDojo and Google
o.abouhajar@syrpronet.com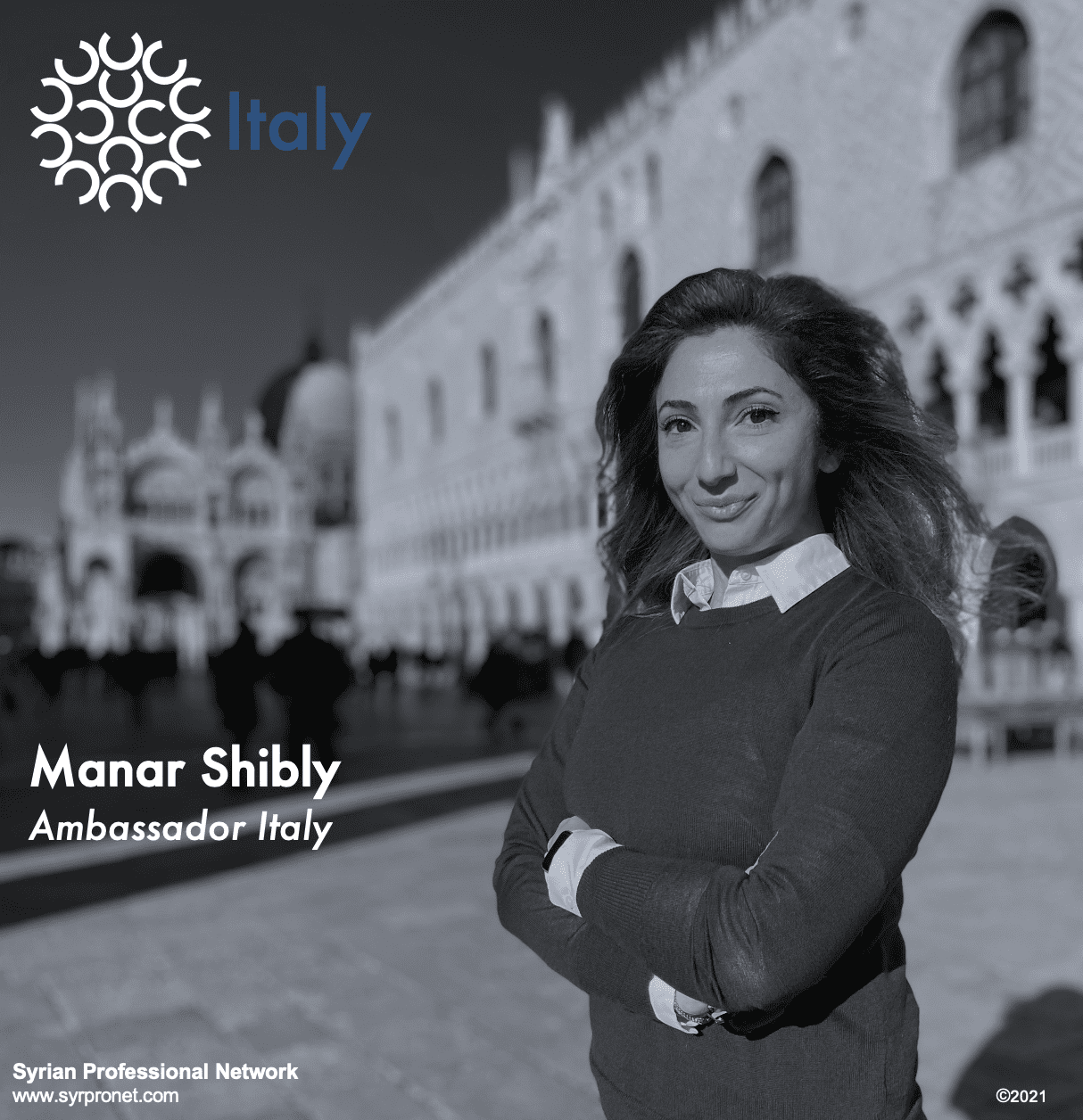 Manar is an experienced project manager based in Italy. She holds a Master's degree in Sustainable Territorial Development from 4 universities Padova (Italy), Sorbonne Paris 1 (France), KU Leuven (Belgium), UCDB (Brazil). She is skilled in managing Cooperation for Development and EU-funded projects. After years of coordinating successful programs, she is focusing on Impact Evaluation and innovative approaches to sustainable business development. Manar is a polyglot, she speaks Arabic and English, and fluent in Italian, Spanish and French. She loves arts and theatre and enjoys meeting new people, traveling, and cooking.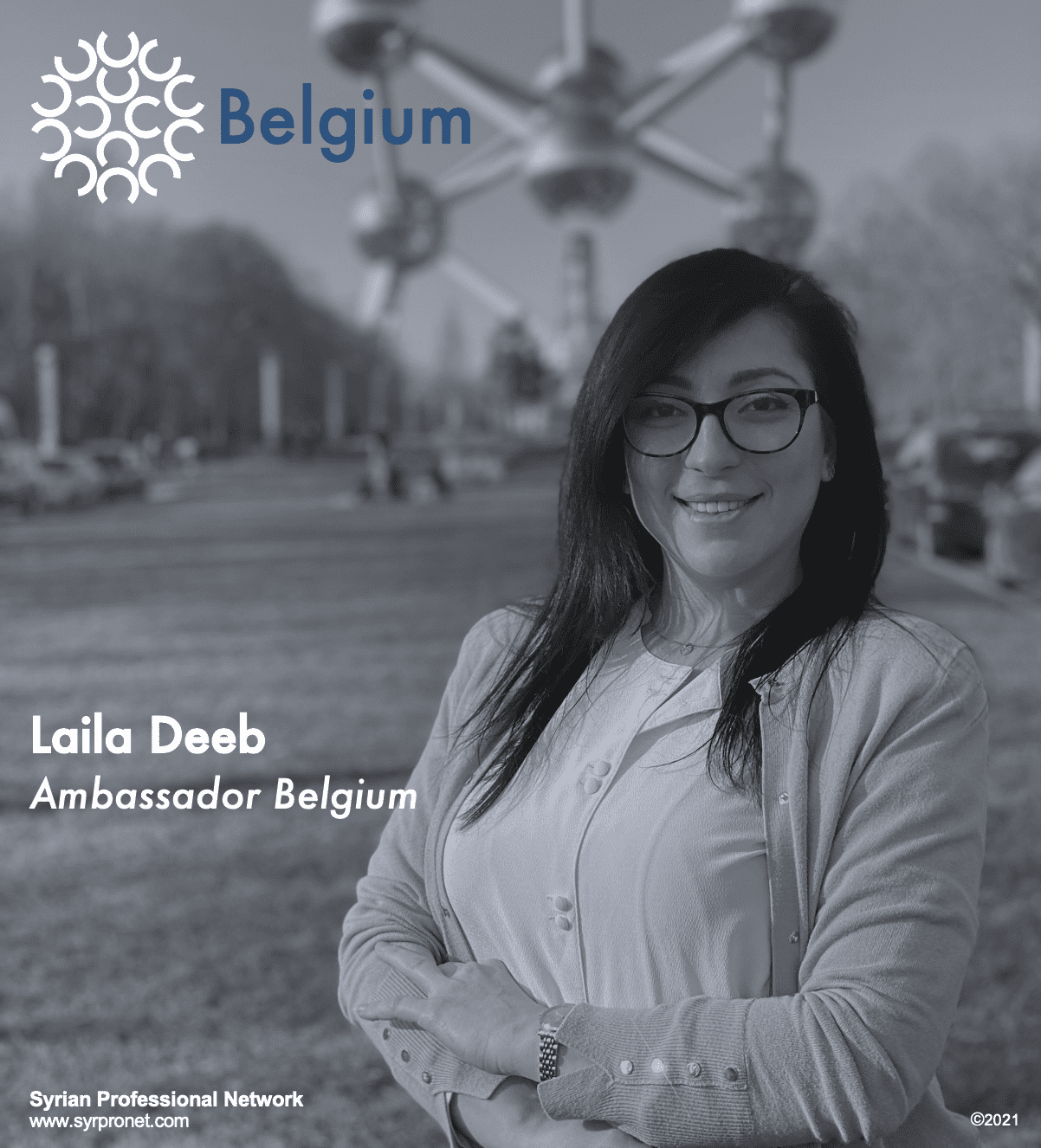 Laila is a software engineer/Product owner based in Brussels working with The Synergist, She is also the founder of (SWIT) Syrian Women In Tech a project that aims to empower and guide the Syrian women working or studying in tech domains. Prior to the product owner role, Laila worked with Shamra Search engine, and as a Lecturer in the Software engineering department at Tishreen University. In the network laila is also leading the mobile application development process. Throughout her life, Laila had a sincere interest in exploring and educating tech topics, also in empowering women, she is aiming to give more visibility to women in the public sphere and a deeper knowledge of tech topics, especially for Syrian Women.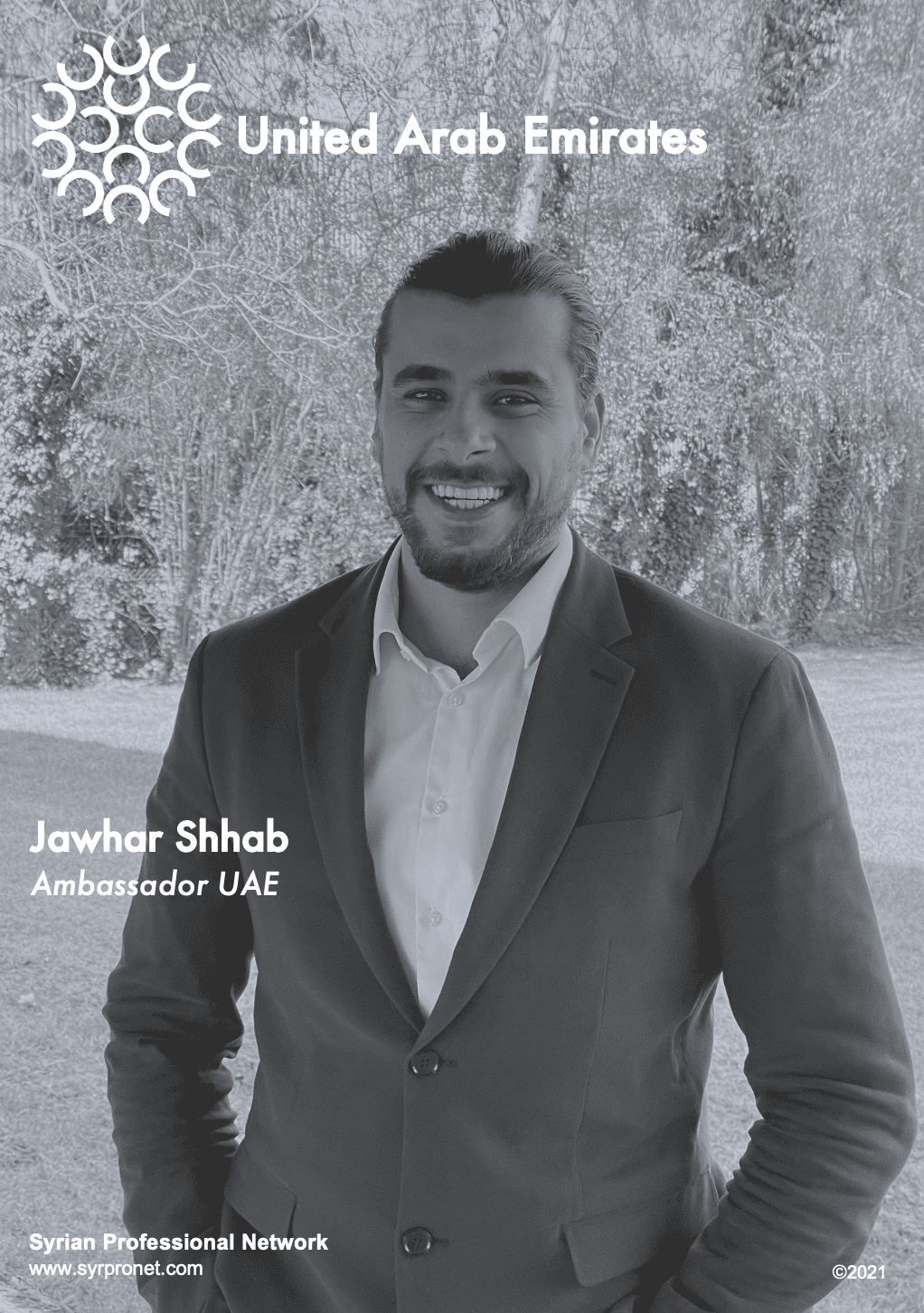 Jawhar is a Syrian entrepreneur with a vast experience across different industries. He is currently working as a Legal Tech Advisor & Business development representative in "Knowliah", a legal tech company in Brussels. Just before that, He participated in the creation and development of a new online training academy based in Dubai "Kun Academy" in 2015 he moved to Belgium and participated in a number of entrepreneurial ventures such as: - Co-founding a luxury and sustainable kids fashion brand: "Atelier Ruffles". - Managing the Marketing department of the leading training Academies in the Middle East "Focus Academy". Jawhar believes in giving back and tries to be as useful citizen as he can. For this purpose, he is currently working on the vision and goals of the non profit organisation "Syrian Women In Tech" and volunteers for "RANA" – which helps new comers to be integrate themselves in Belgium.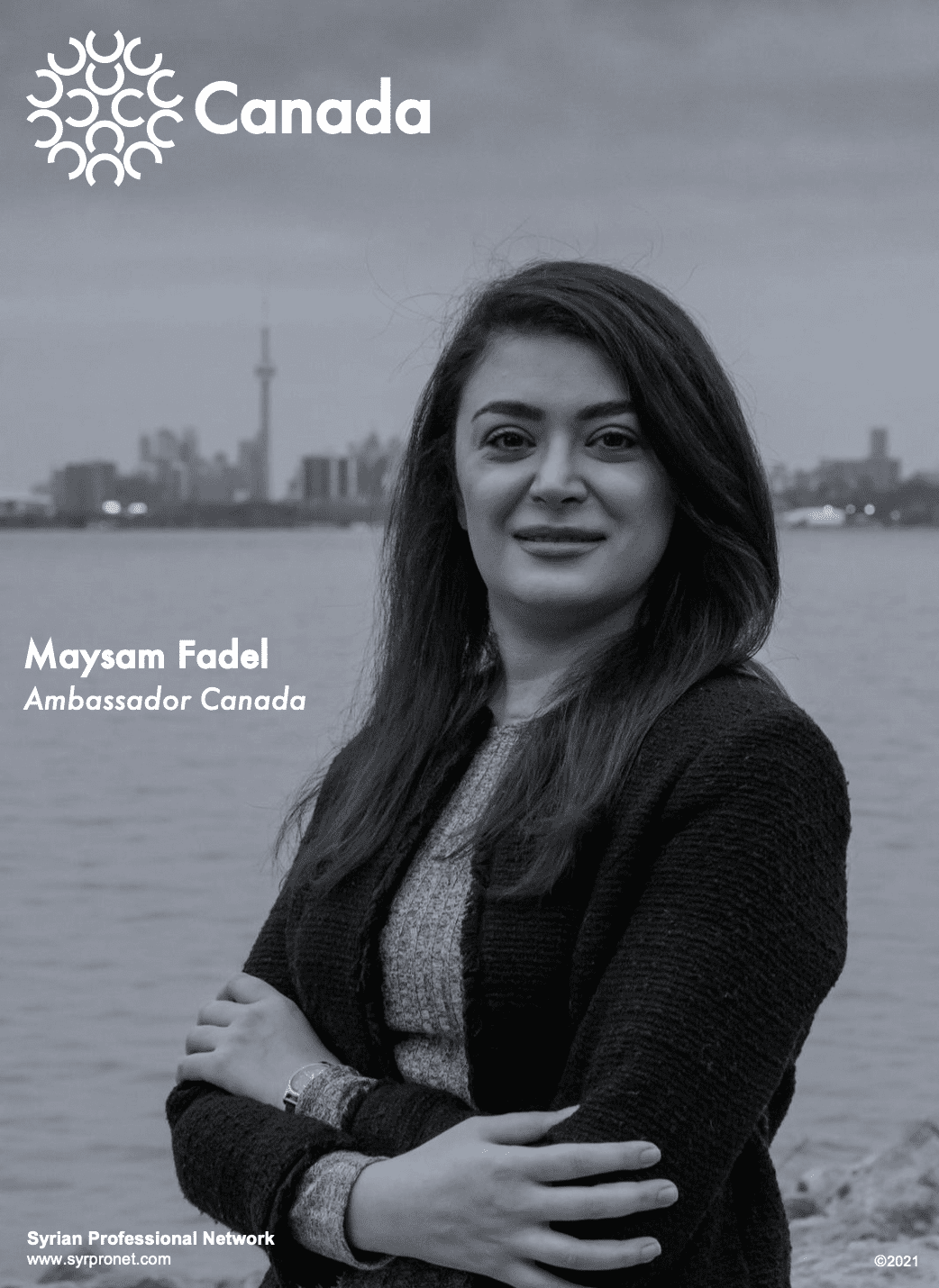 Maysam is a human rights activist and pursuing her Masters degree in International Development (Conflict, Security and Development) with Birmingham University in UK. She is currently working with WoodGreen Community Services in Toronto, Canada managing the Volunteer Services Department. Prior to that, Maysam has 10 years of experience working with UNHCR and UNICEF, Syria supporting multiple development programs. Maysam believes that every human has potential and can make a difference. She's passionate about empowering communities, building bridges and strengthening collaboration between people.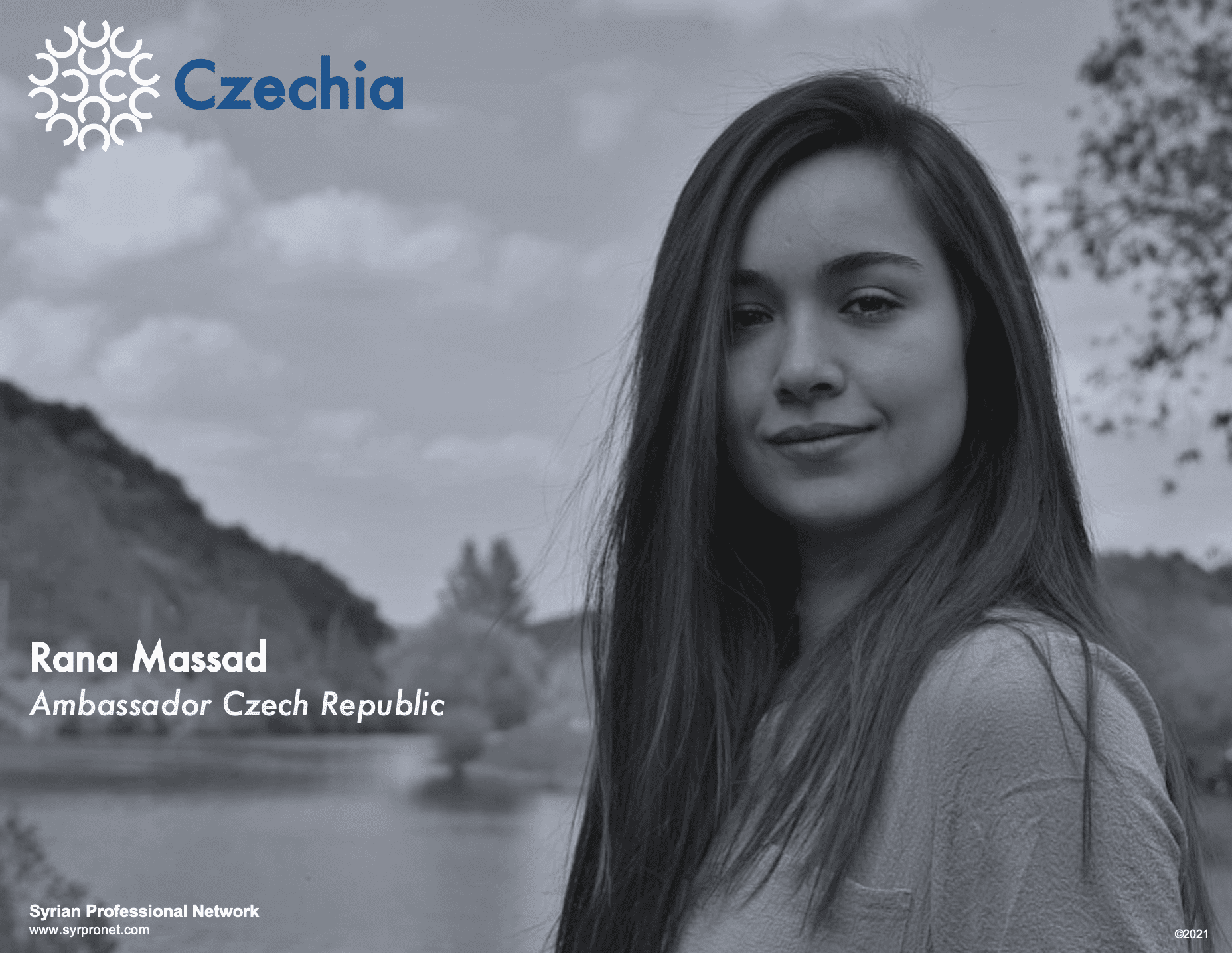 Rana is a Master of Economics and Management MEc student at Czech University for Life Sciences in Prague, Czech Republic. a holder of a Bachelor's degree in Banking and Insurance from Damascus University in Damascus, Syria. She has a wide knowledge in the Financial and Economical field due to her educational background and was able to master and develop communication, organizing, and analytical skills throughout her past work and voluntary experiences.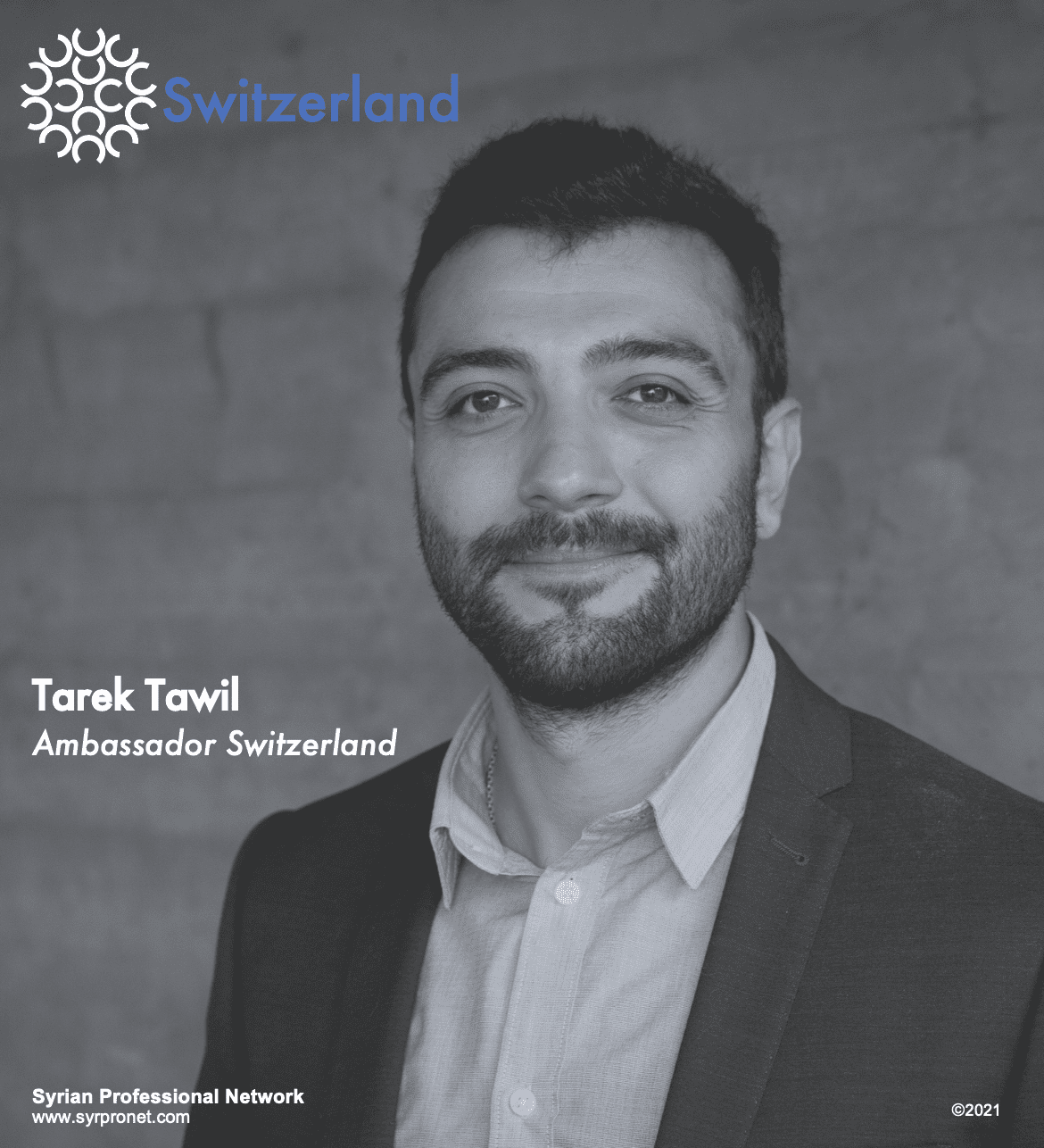 Tarek is a civil engineer and he holds three post-graduate degrees; a master's in international law in armed conflict, a master's in humanitarian action and a diploma in international affairs and diplomacy. Tarek is a humanitarian practitioner, specialized in coordination of humanitarian affairs and the protection of refugees and internally displaced persons during and following armed conflicts. He worked with the Syrian Arab Red Crescent (SARC) and the United Nations High Commissioner for Refugees (UNHCR) during the conflict in Syria between 2014 and 2019. In Geneva, Tarek worked as a Consultant at the Headquarters (HQ) of the United Nations Office for the Coordination of Humanitarian Affairs (OCHA), then with the International Organization for Migration (IOM), Global Camp Coordination and Camp Management Cluster (CCCM).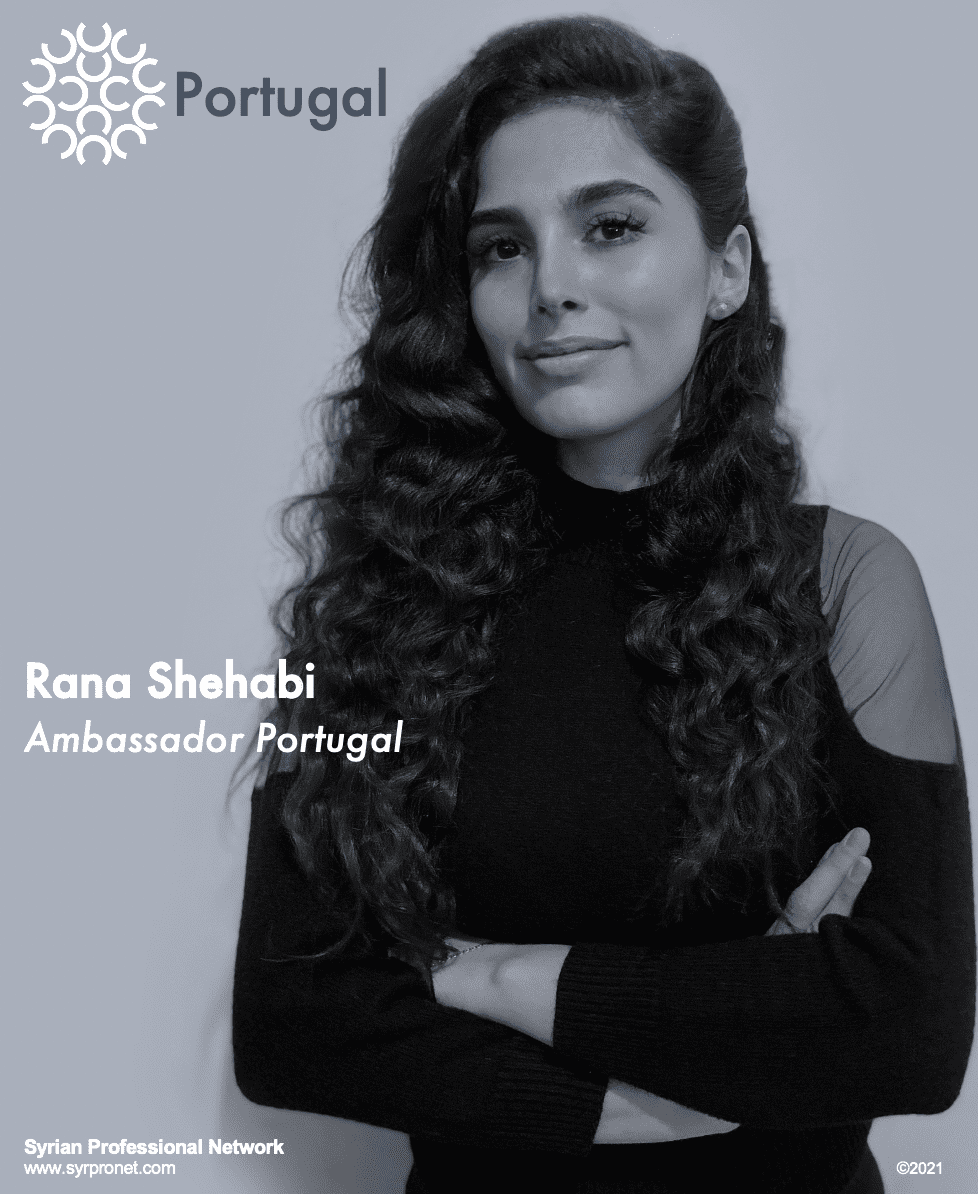 Rana is an Architect, graduated from Damascus University, class of 2015 and worked as a designer in architecture firm in Damascus, Syria. She Assisted and participated in several workshops in Syria and Europe between 2010 and 2018. In 2018, she moved to Portugal; and obtained her Master's Degree in Architecture from the University Institute of Lisbon, School of Technology and Architecture in 2020.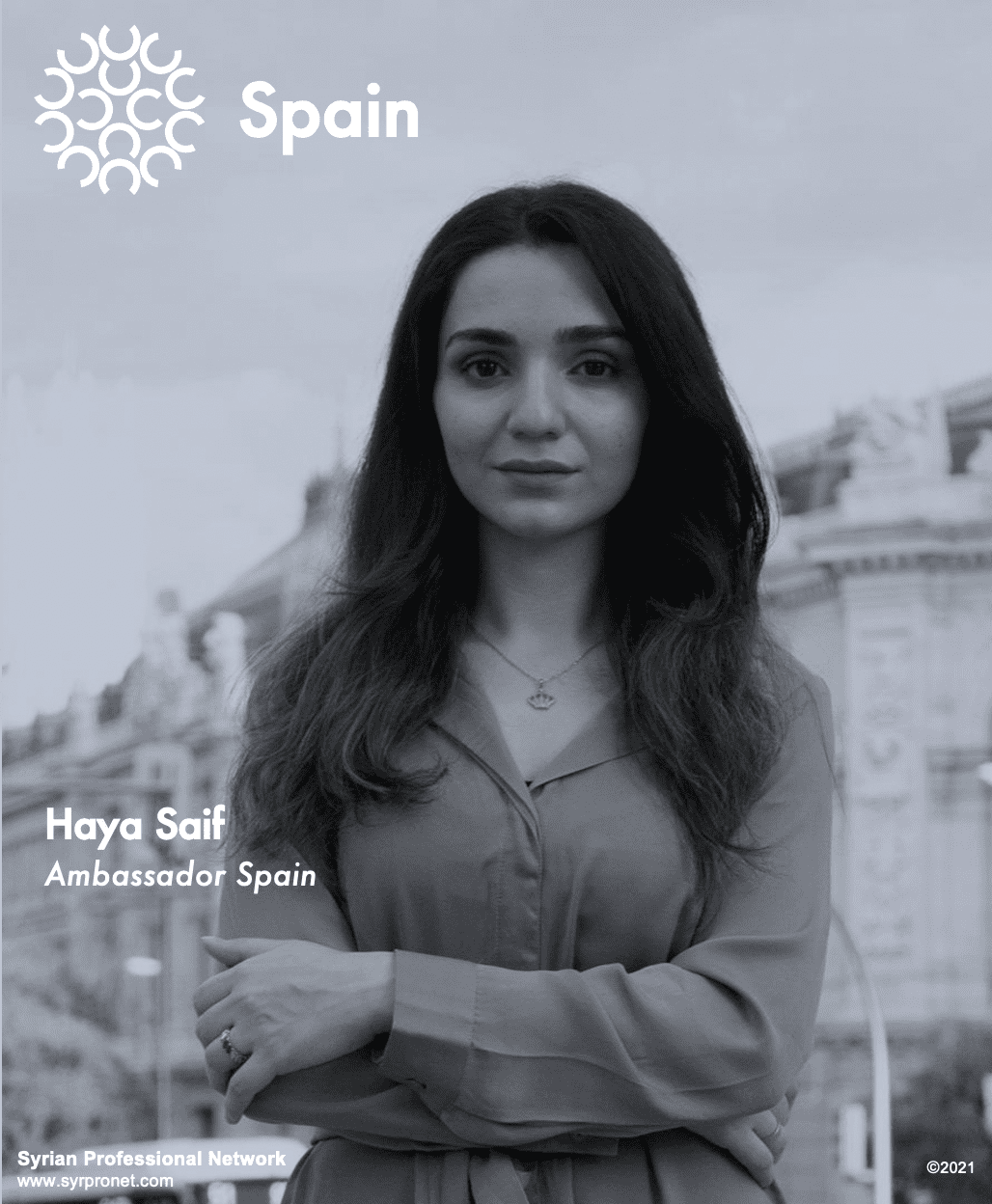 Haya is a professional business consultant who aspires to make a positive impact wherever she is. She holds a bachelor degree in economics from Damascus University and a Master in Management from UC3M, Madrid,Spain. She has a valuable international experience in different fields including banking, communication, and business management. When she is not working, you can find her wandering around the city, making new friends, learning about different cultures, or just jogging in a park with lots of trees.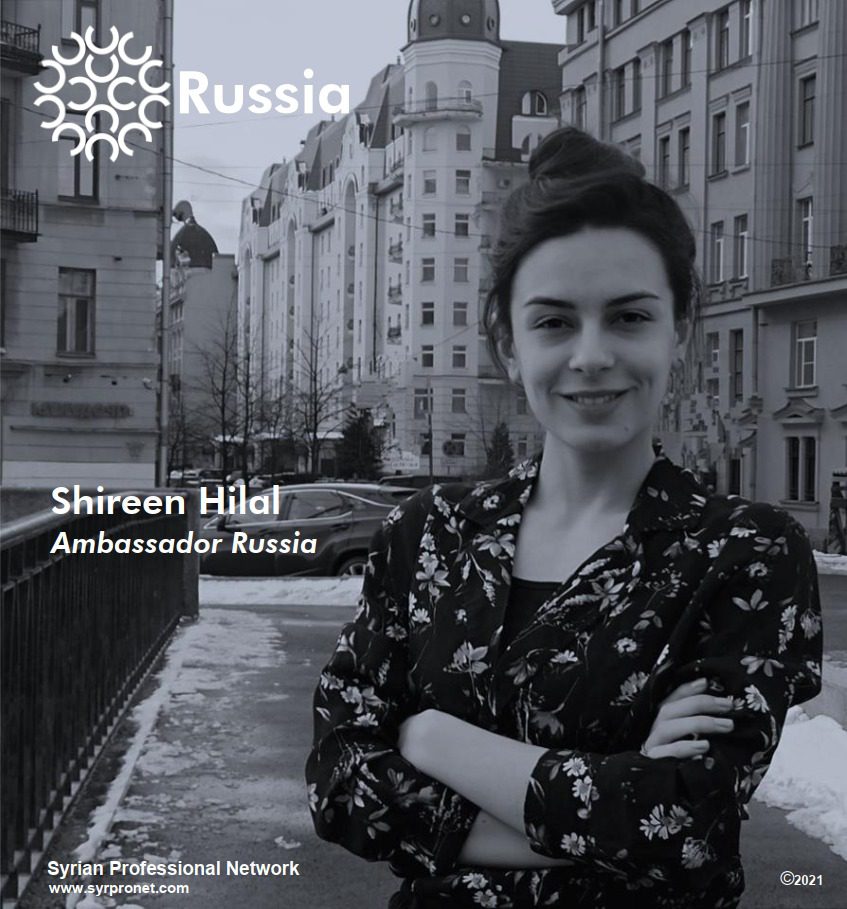 Shireen is a Master's student of Laser Engineering and Technology at ITMO University in Saint Petersburg, #Russia. She is currently working in the field of laser modeling and simulation. She completed her Bachelor's degree at Damascus University in a special program Laser Science and Technology supported by the Distinction and Creativity Agency in Syria. That was after she had graduated from the National Center for the Distinguished as high school. She has an extensive knowledge of #optics and #modern_physics techniques due to her educational background. Shireen is passionate about music, she plays and composes music as a hobby. Also she improved her management and organization skills throughout her past voluntary experiences at the 'Distinction and Creativity Agency'.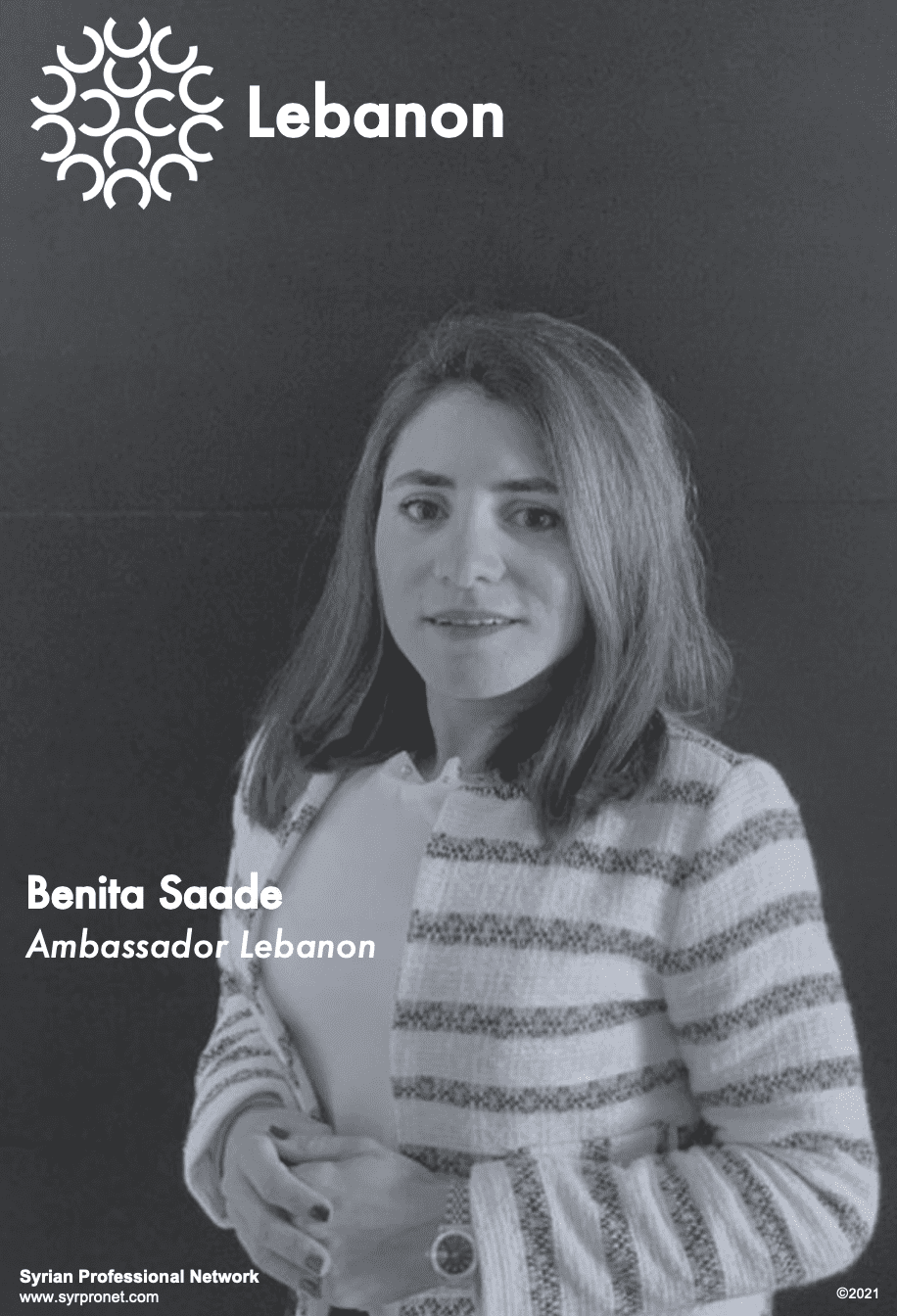 Benita is a Syrian Entrepreneur with financial experience in the Banking and Financial sectors. She is currently working as a Financial Advisor and Insurance Consultant covering regional and international markets. She is also preparing for her own startup that will be based in Dubai, UAE. She has in-depth technical knowledge in International Financial Reporting Standards (IFRS), earning a diploma from ACCA, UK, and she completed her EMBA program from the American University in Beirut last year. Right after she graduated from Damascus University in 2004, she continued to pursue her education and got a M.Sc. in banking and finance from Bordeaux University in Montesquieu, France. She can help in providing financial knowledge to firms, organizations and private businesses, utilizing her proficiency in Financial Reporting, Internal Control, Risk Management and Corporate Governance. Benita's hobbies are swimming, traveling and meeting new people.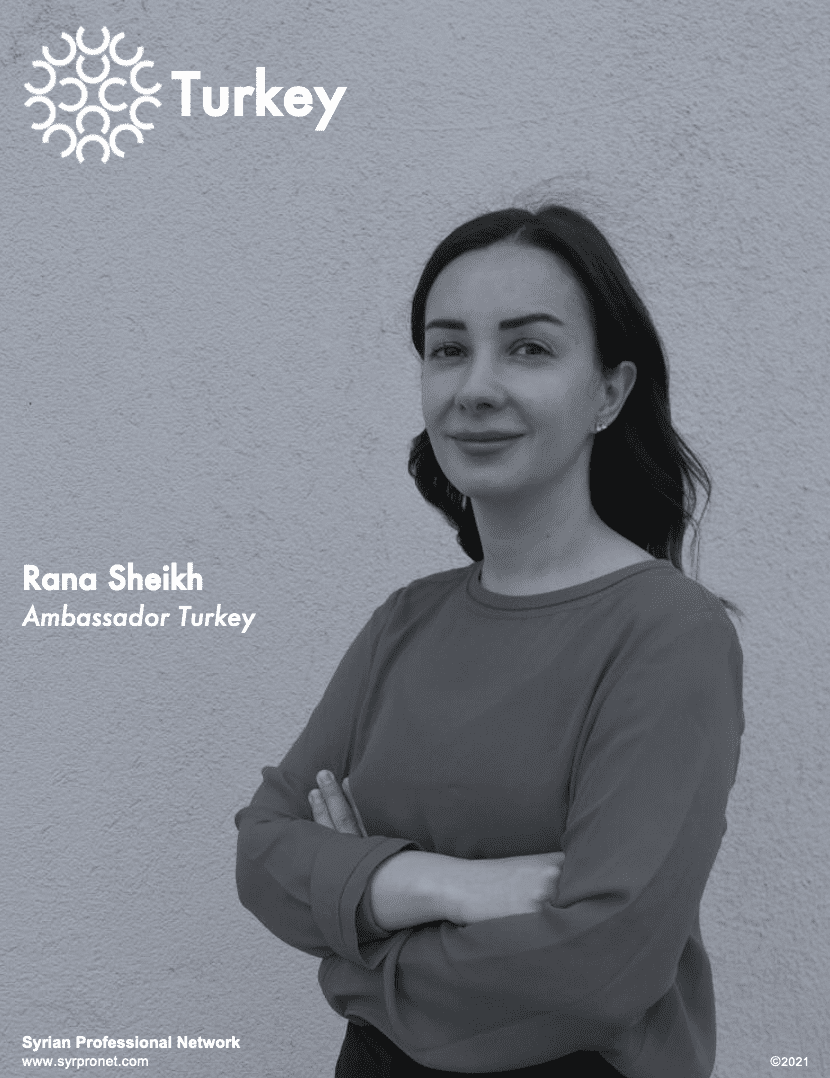 Syrian Professional Network is proudly announcing the expansion to #turkey ! Please meet our Ambassador, Rana Sheikh Rana is an Instructional designer & program coordinator at 'Alfanar' Palestinian school while pursuing an MSc degree in Educational Technology. She is currently working on restructuring traditional schools in many aspects, by providing curriculum plans for a previously established school, and by bringing in new teaching strategies using innovative approaches. The variety of her tasks has enhanced her academic and managerial skills since she has a passion for teaching and social development. Therefore, she learned from her experience how to establish cooperative, professional relationships with parents, students, staff, and administration. Rana worked for four years as a STEM instructor providing new techniques, designing activities and curriculum to teach Stem and robotics for preschool students. Besides, Rana is a volunteer with different NGOs for Animal Rescue since she believes that; animals should live in peace one day.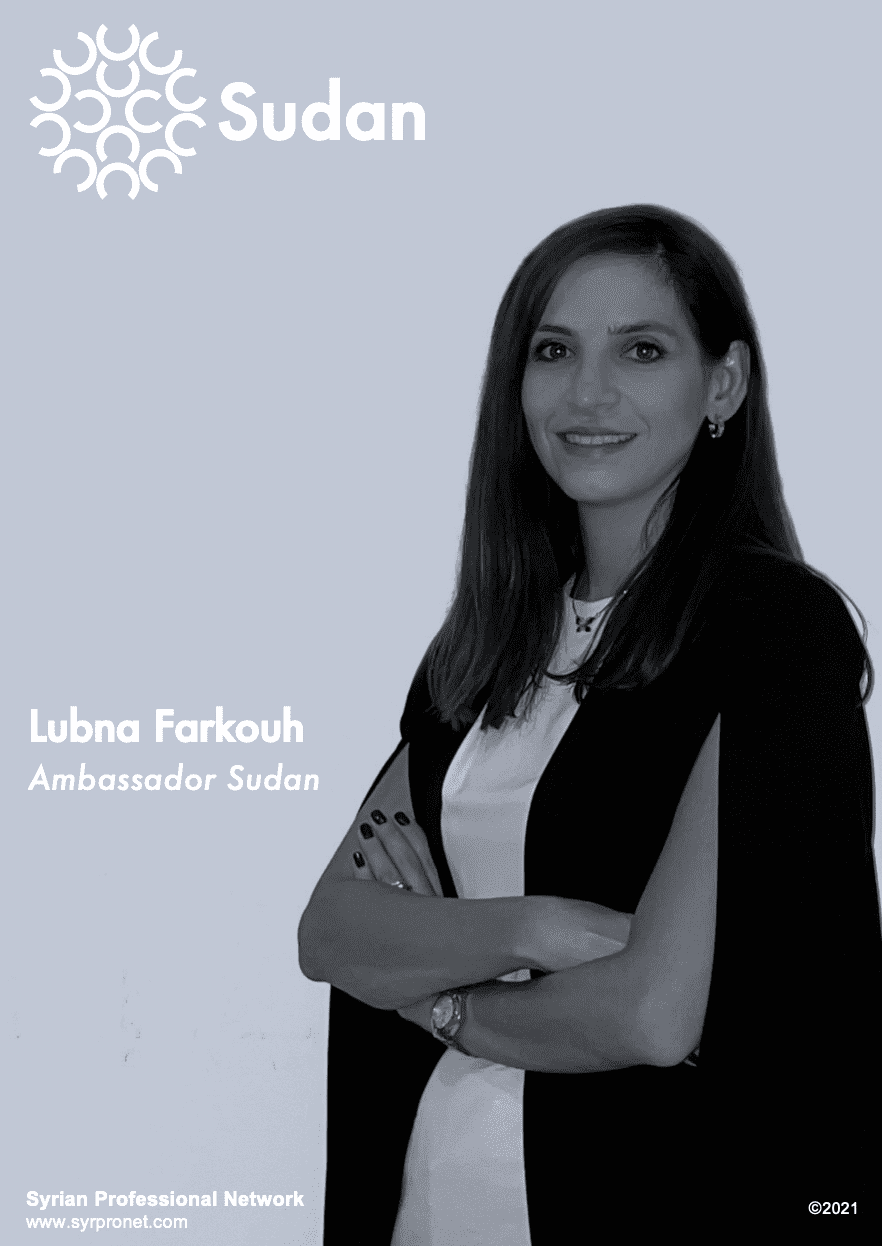 Lubna is a Syrian entrepreneur who started a company specialising in import and distribution of skincare products in Sudan. Lubna has been an accredited pharmacist since graduating from the University of Aleppo in 2007. After graduation, she worked for two of the biggest multinational pharmaceutical companies where her professional career took shape in the medical sales field. Climbing up the career ladder, Lubna started as a medical field representative with Servier and progressed to becoming the representative of Pierre Fabre Medicament's oncology products for the entire Syrian territory. The experience of working with multinational companies, meant that Lubna worked in a team environment with professionals from the highest standard in the industry. She established KAMI Trading and after laying the correct foundations and communicating with a number of European skincare manufacturers. Currently, Lubna continues to manage her company after having established a unique network between Sudan's top dermatologists and leading pharmacy outlets.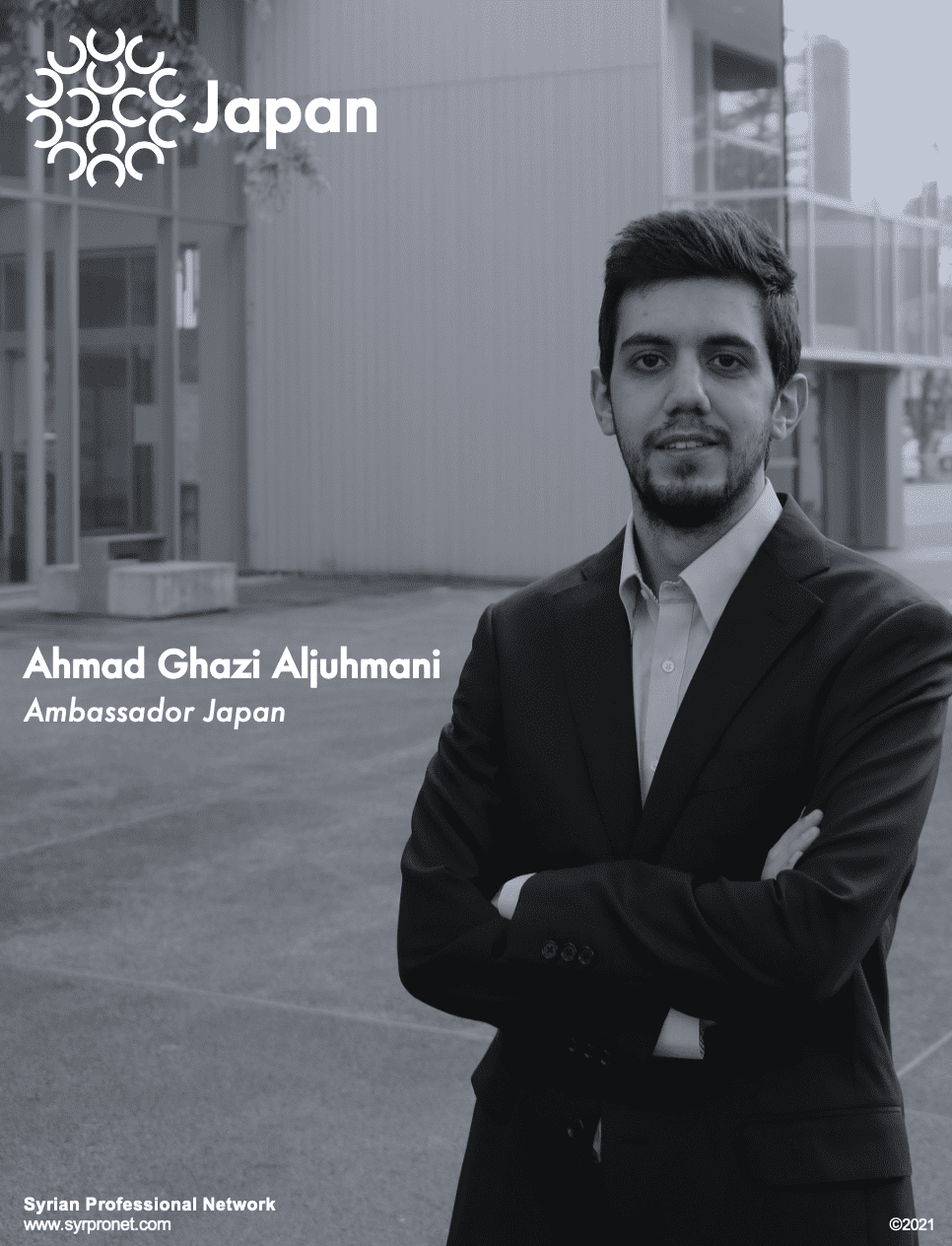 Ahmad Ghazi is a Ph.D. student at the Graduate School of Engineering, Tohoku University. He is also a student of the World-leading Innovation & Smart Education Program (WISE) for Sustainability in the Dynamic Earth (SyDE) at Tohoku University. Ahmad Ghazi completed his bachelor's degree in civil engineering at Damascus University in 2016 (honours). In 2018 he was awarded MEXT Scholarship from the Japanese government. After moving to Japan, he completed his master's degree in Architecture and Building Science Department, Tohoku University in 2020. After finishing, he joined the WISE program to pursue his Ph.D. During his master-degree course and now in his Ph.D., he is working with Miyagi Prefecture CLT Promotion Council on promoting the use and studying the seismic behaviour of relatively new engineered timber material called CLT. He is interested in disaster risk reduction (DRR) and in sustainable and disaster-resilient cities.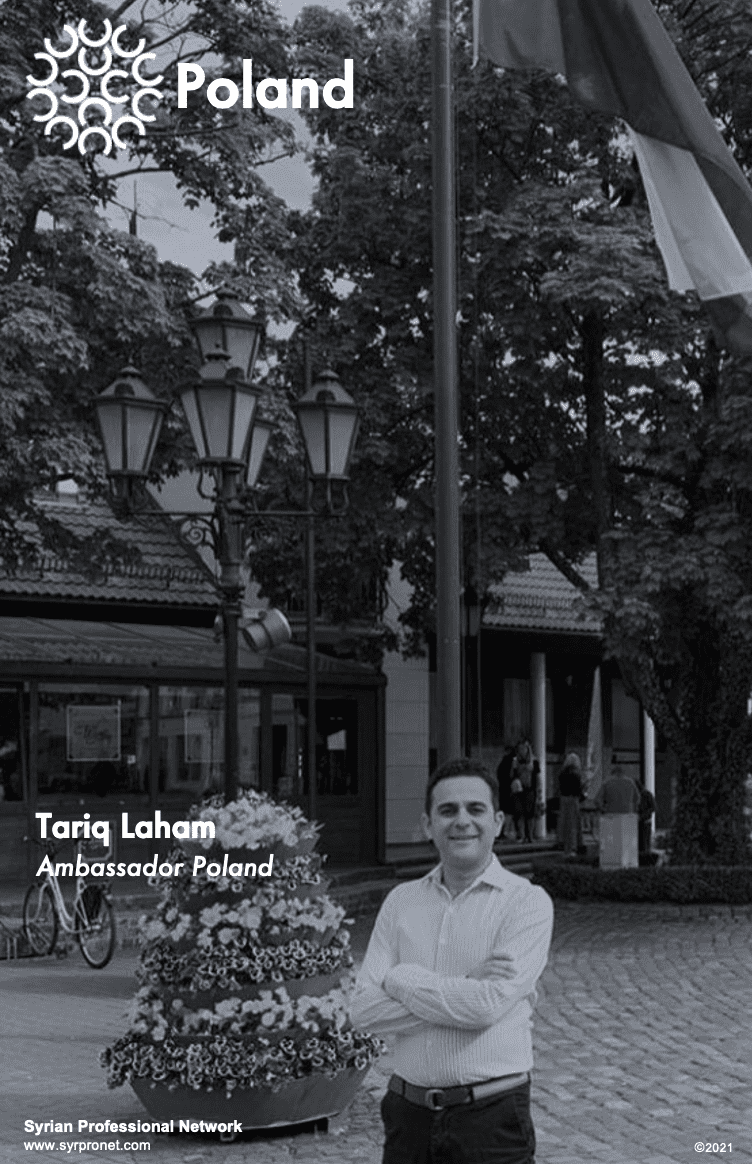 Tariq is a Technology expert and currently he is a senior executive in a prominent global IT services company. He holds a bachelor degree in software engineering from University of Damascus and an Msc degree in Advanced Telecom engineering from École nationale supérieure des télécommunications de Bretagne. Tariq runs a portfolio of investments in Real Estate Nd F&B. He is a people person and master of handling diversity of cultures, he has visited over 50 countries in 5 continents.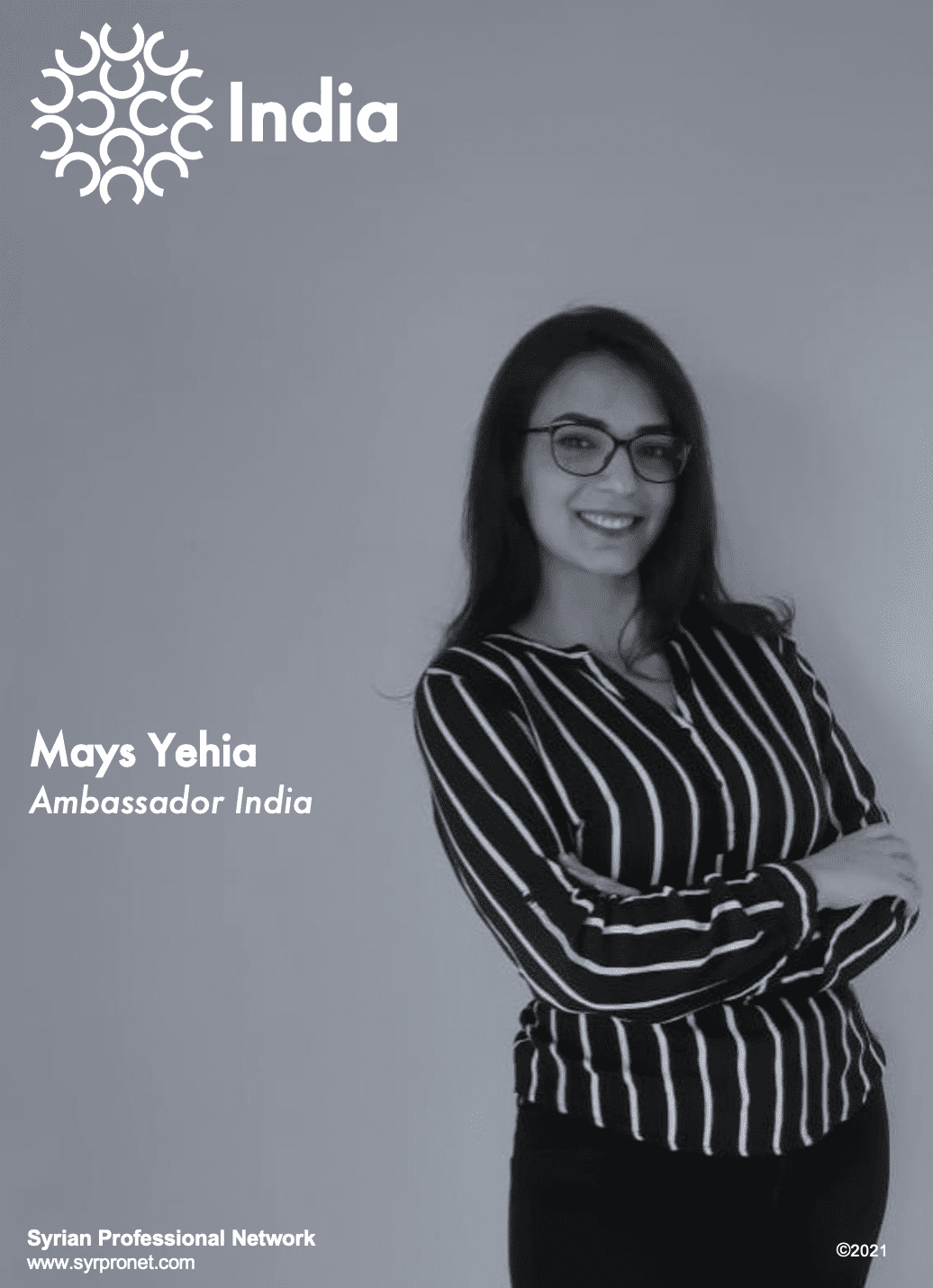 Mays is pursuing a Master's degree in Social Work In New Delhi, India. She was awarded a Scholarship from The Indian Council for Cultural Relations in 2019. Mays completed her bachelor's degree in Education at Al-Baath University in 2016, and she worked as a primary school teacher for three years. Mays believes in helping to relieve people's suffering, fight for justice, and improve lives and communities. She began her journey in social work by volunteering as a facilitator in childhood development at 'Agha Khan Foundation'. Moreover, she participated as a trainer in disaster and humanity relief. Throughout those experiences, she gained notable assets such as #flexibility, working under pressure as well a #multicultural and open #mindset. Linkedin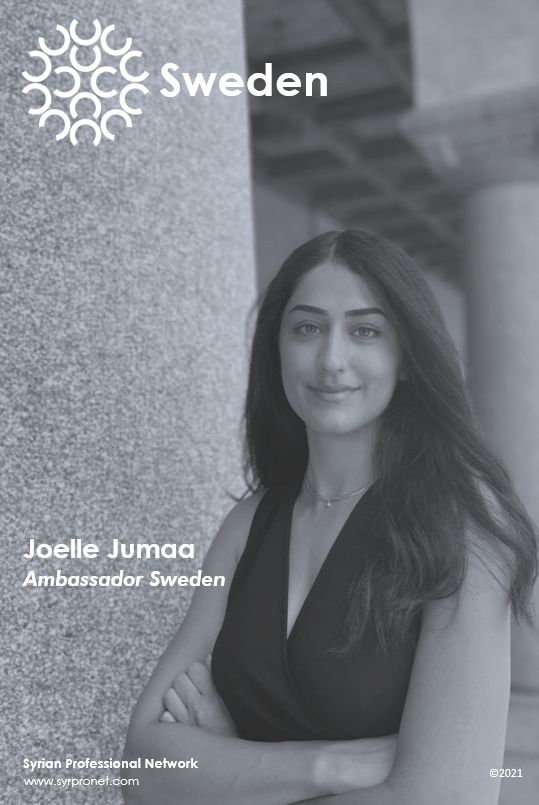 Joelle is a Master of Pharmacy student at the Biomedical Centre at Uppsala University in Uppsala, Sweden. As a result of her work at Karolinska University Hospital, she has extensive experience in hospital pharmacy. She has also worked as a pharmacy assistant and has experience with pharmaceutical consultation. Joelle enjoys exercising, reading, traveling, and meeting new people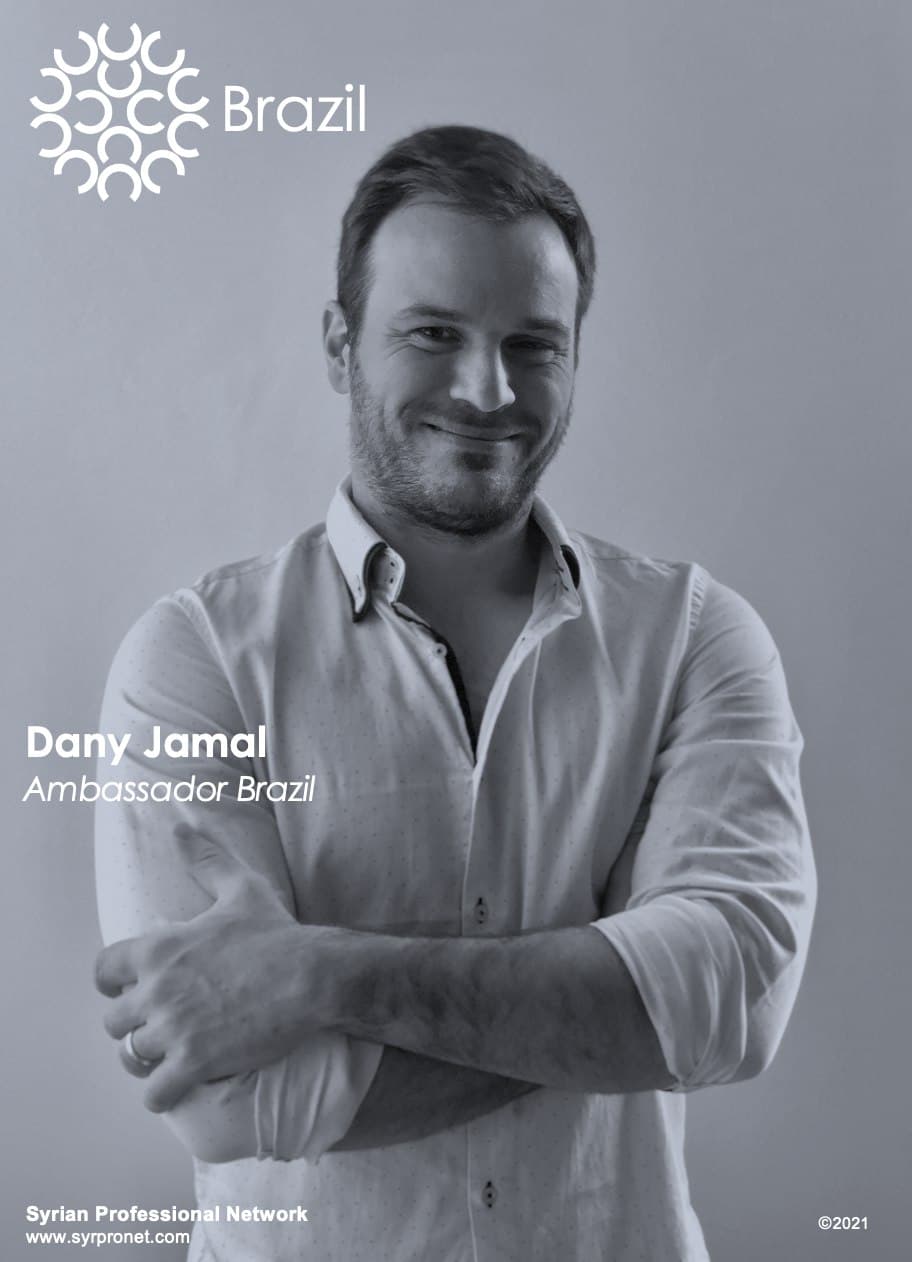 Dany is a project management professional and he is helping enterprises to boost their efficiency governing their projects. He holds degrees in civil engineering from Vysoké učení technické v Brně, which let him occupy challenging roles in the construction industry in Czech Republic. However, his multicultural background allowed him to go international and get involved in the most iconic projects in the food industry in Europe and Asia, and in the interior and exterior illumination in the Middle East. Besides, Dany runs his own side hustle in international trade and loves creating synergies between B2B small businesses across continents. Today, he is an active member of PMI Rio de Janeiro Chapter and enjoys running along the beaches in Rio.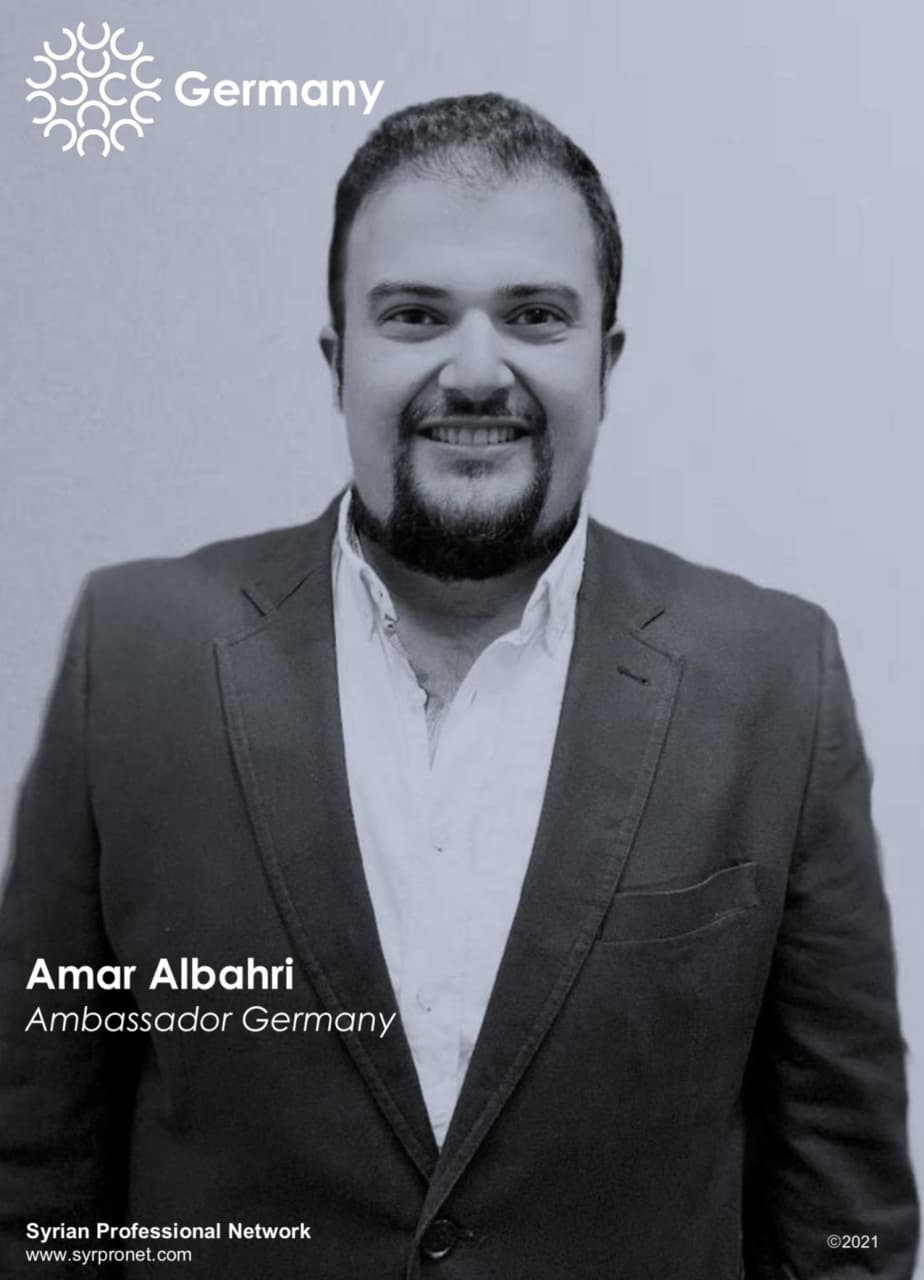 Amar has completed his studies as an Architecture engineer. He had great contributions and an active role on many architectural and city planning projects, some of which won prizes with advanced degrees in Germany and Switzerland. He also had a role in participating in the architectural study and Cityscape compatibility studies of many tower projects in Munich and Germany in general. Amar enjoys Drawing, painting, sketching, travelling, cooking, reading, writing poetry and short stories.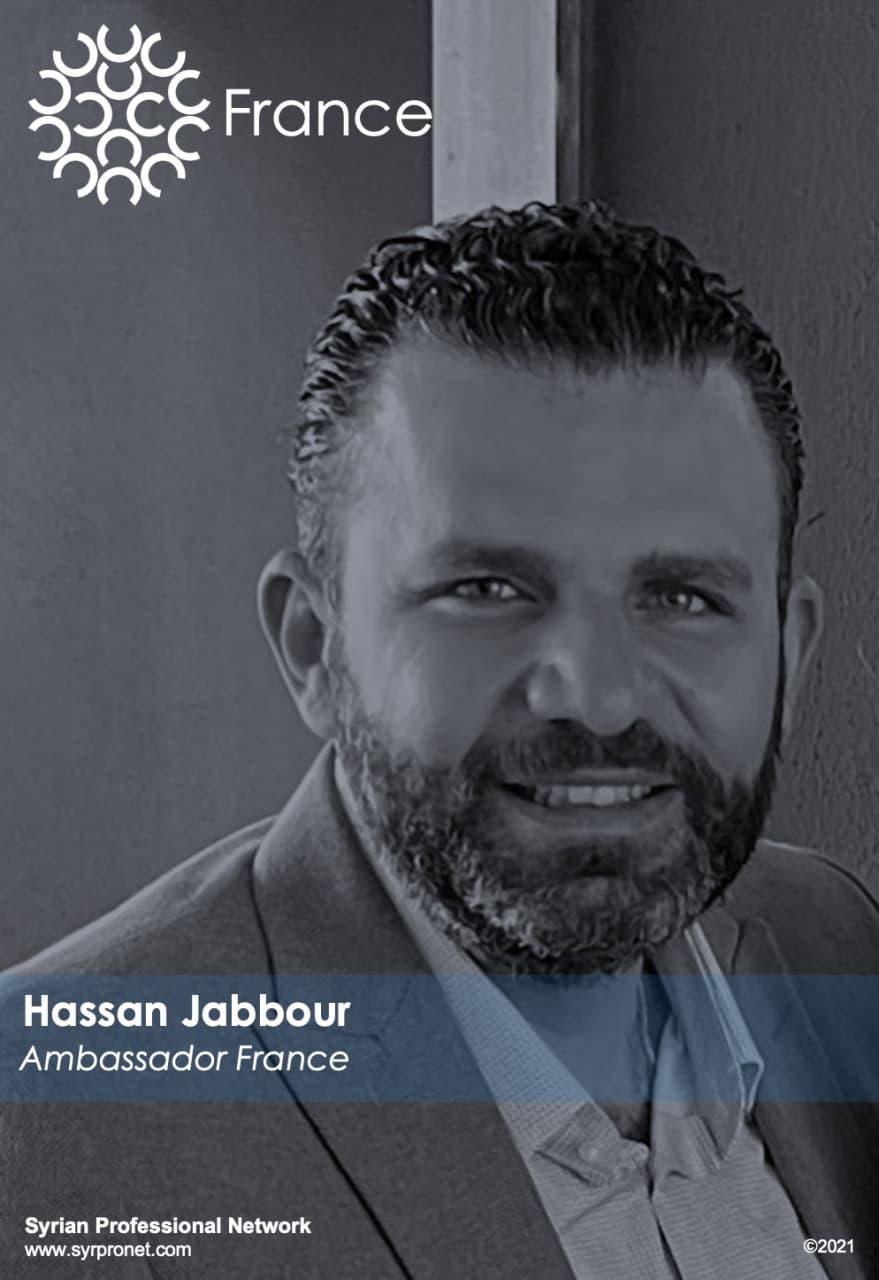 Hassan is a civil engineer, with a Master's degree in Structural Engineering from INSA Lyon - Institut National des Sciences Appliquées de Lyon, and 19 years of experience in engineering, controls, project management & facility management. He is the Founder and General Manager of FIRST EFM LTD besides, Hassan is an International consultant at ASHLEY SASU, Paris. Hassan has mentored and educated a lot of young people, giving them guidance in the business field and career development, continously influencing the industry positively.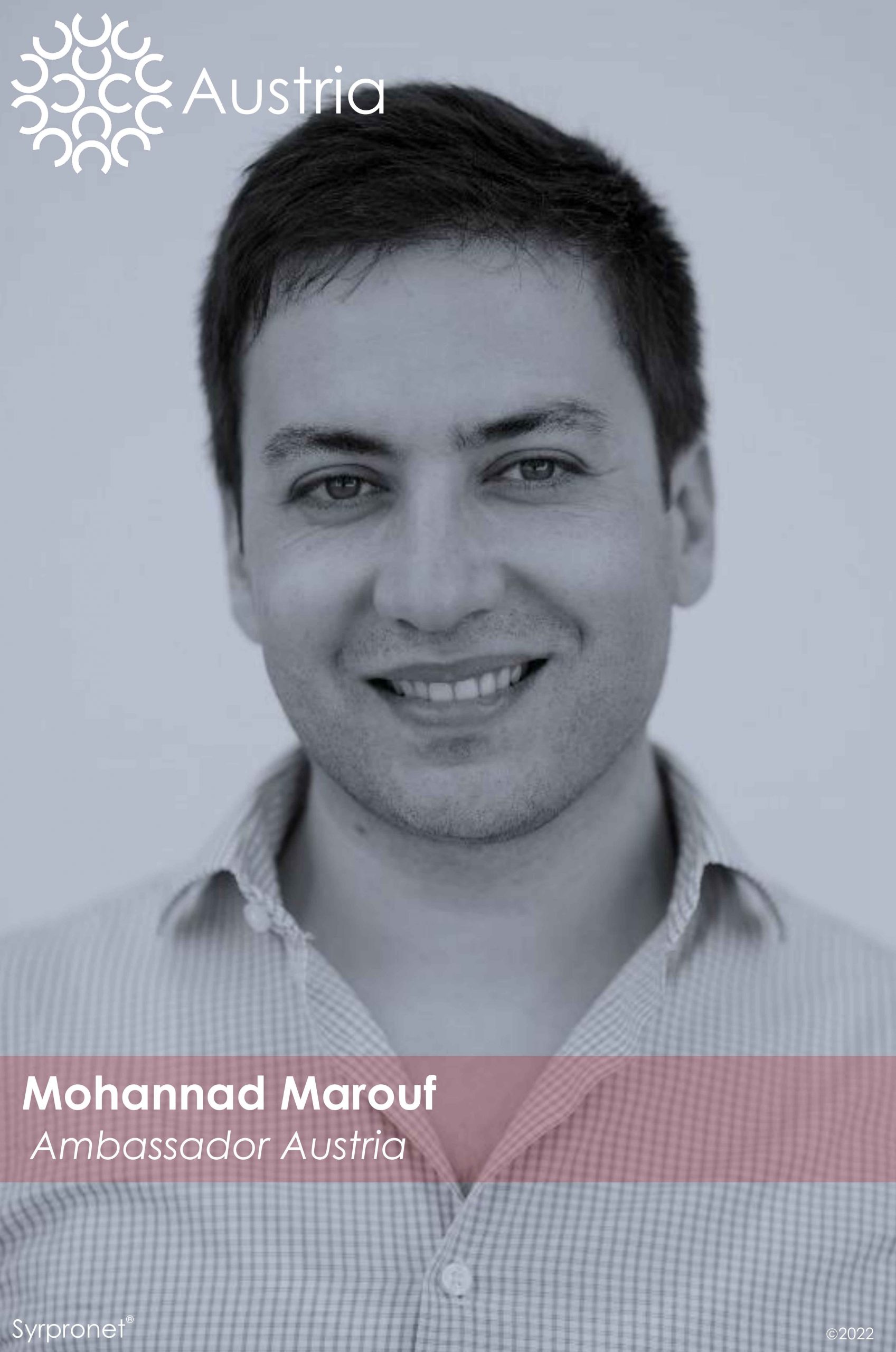 Mohannad holds a Bachelor's degree in Petroleum Engineering from Jami't Al-Ba'ath and a Master's degree in RESERVOIR Engineering and Computational Physics from Montanuniversität Leoben Austria. Mohannad started his career as a Petroleum engineer at Shell, then he worked as a Data Scientist and Data Engineer with many companies including OMV, Pfizer and A1 Telecommunication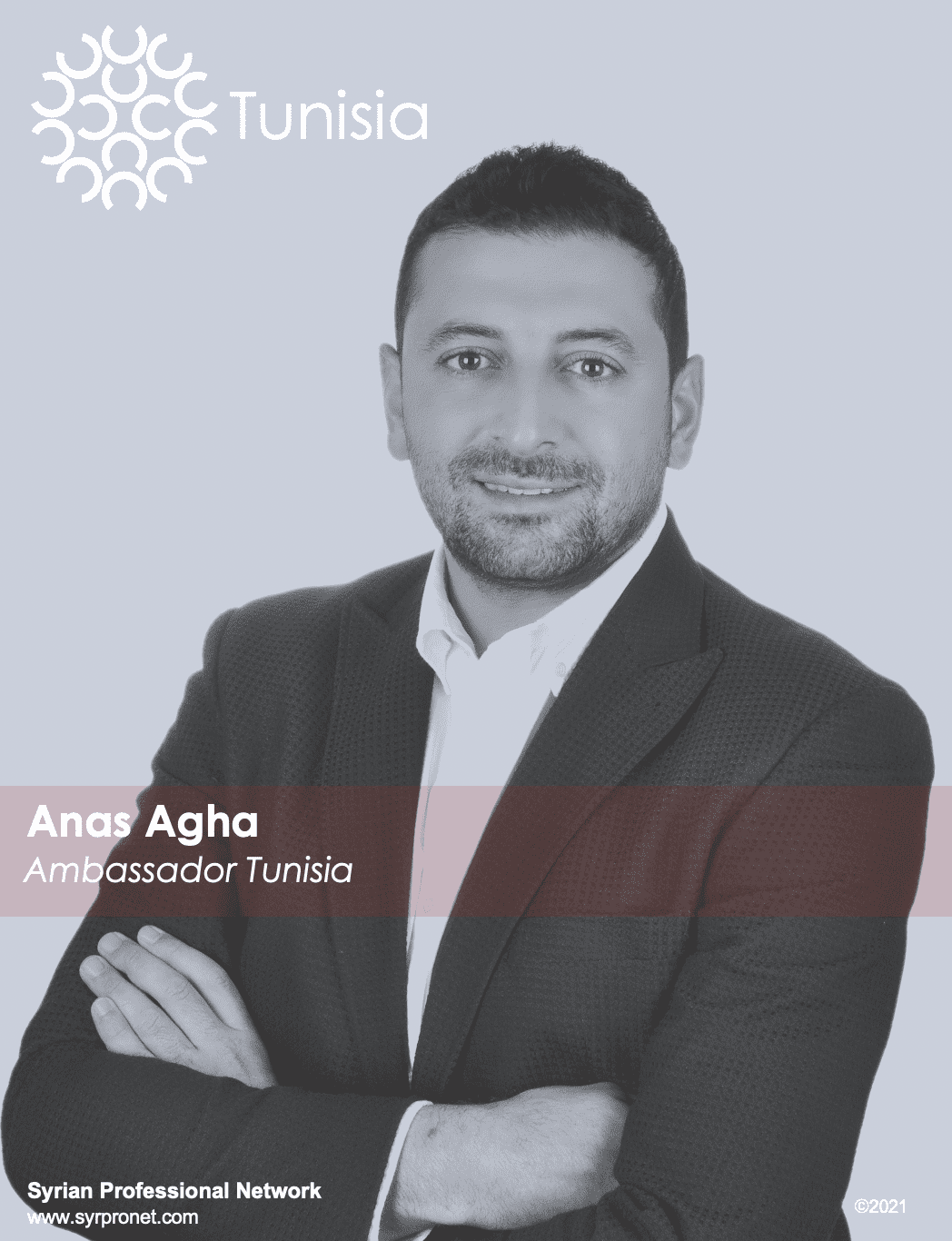 Anas is a Project Advisory leader and a senior managing consultant for different types of Cement Terminals in #EMEA region. He is the Founder and Director of a group of companies active in consultancy & commodities business across #EMEA region by offering Investment Consultancy, Project Management, Trade Facilitation and Freight Forwarding. And currently Anas is the managing director of Mena Trade & Consulting . Anas has a business administration academic background and holds a (PMP) from PMI GREECE Chapter, in addition, he is active participant within Executive MBA program at SMU - South Mediterranean University , Mediterranean School of Business (MSB).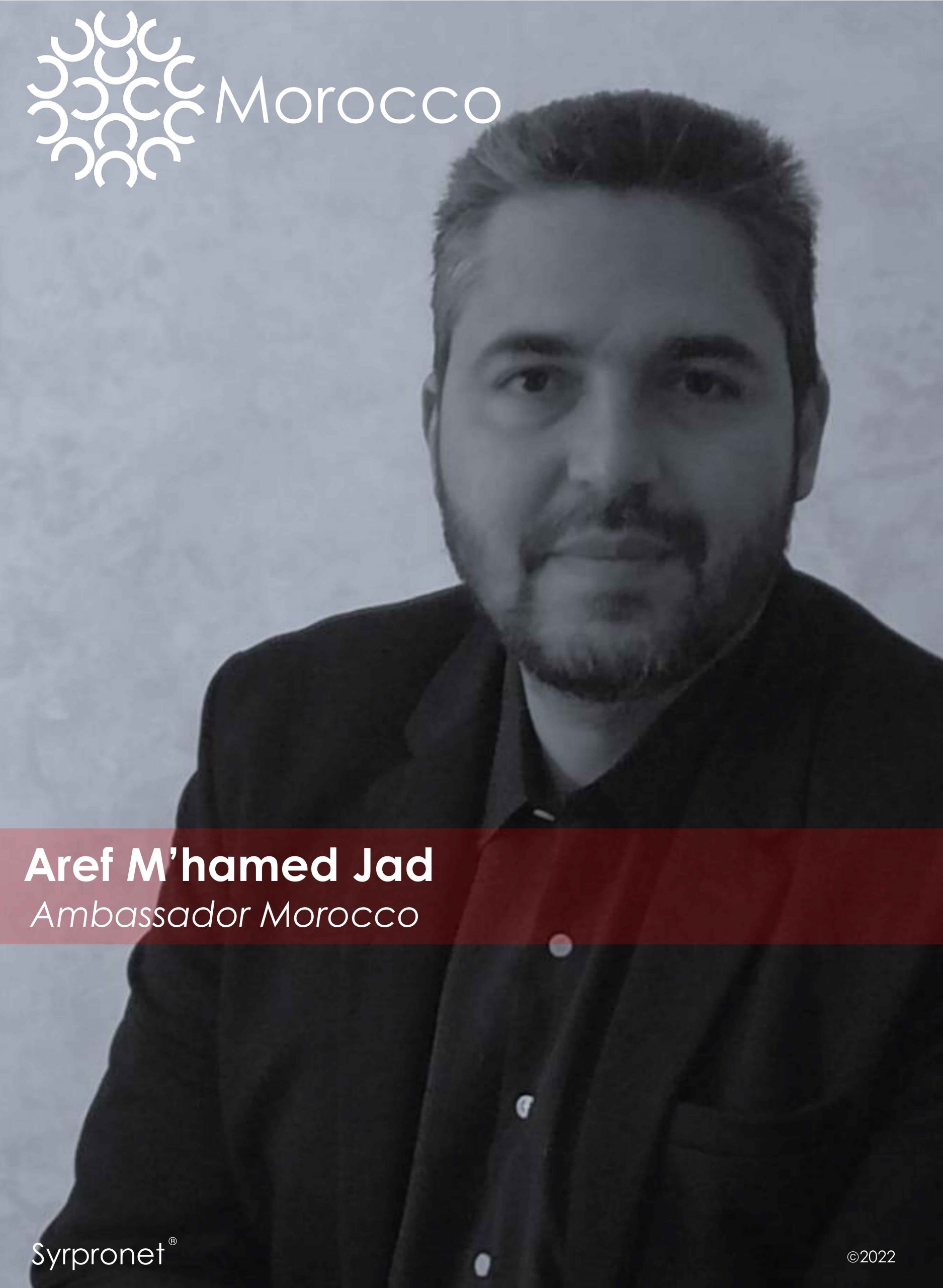 AREF holds a Bachelor's degree in Business and a Master's degree in management & strategy from Federation for EDucation in Europe; in addition to two Diplomas of First-class Engine officer in the merchant navy, and Chief engineer (OM1) from higher institute of maritime study AREF has 7 years of experience on board of different types of ships in Moroccan company of shipping, refined by more than 3 years as Deputy Technical Director in the hospitality industry in 5 stars hotel. He also worked as a Deputy & Operations Manager in a Mall then he was promoted to a Shopping Mall Director with a multi-national company. Currently, AREF is the Development Director of real estate assets in Sama invest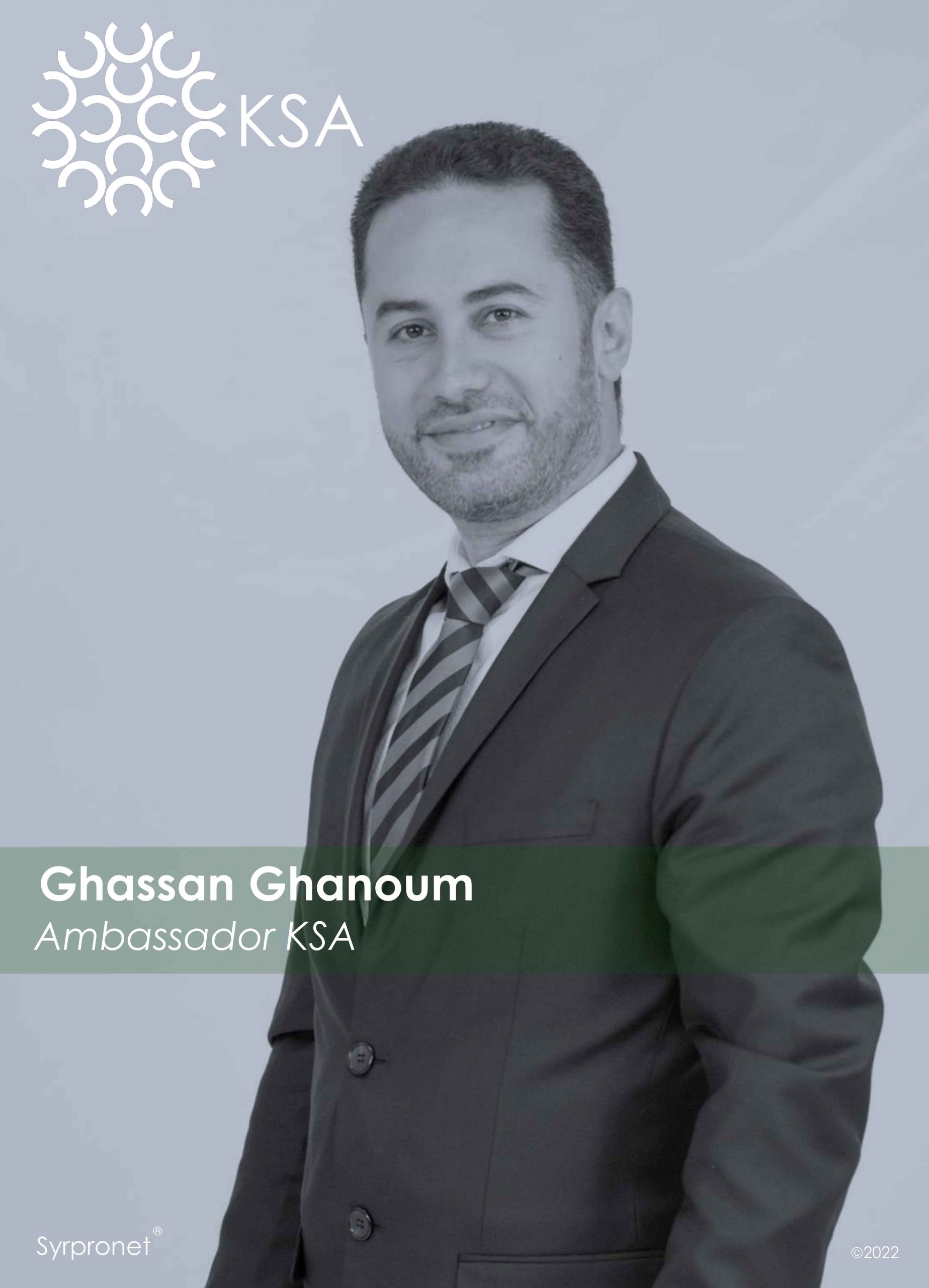 Ghassan is Hospitality & Professional training expert, with a bachelor's degree in Education from Damascus University, beside vocational PhD. & Master's certificates in Business Management from Queensville virtual university (USA). Ghassan has more than 17 years of professional work experience distributed between the fields of Customer service, Corporate & VIPs, International Procurement & Contracts with Syriatel telecommunication & QNB Group. Then Ghassan moved to Saudi where he works in the fields of Learning, Training & Development, and Hospitality Executive Management. In addition to Public Speaking, Presenting & life coaching. Currently, Ghassan is Managing all training, learning & development activities over 48 properties in Boudl Hotels and Resorts Co. where he develops special training programs & career paths that aims to empower Saudi employees in front-office department to enhance their skills and expertise During his career, He achieved success by increasing productivity, raising business level, and creating a professional development and improvement for team members, strategically linked to the mission and vision inside complex work environments. Ghassan believes in reconciling people of different cultures by encouraging cross-cultural dialogue, and the secret of change is to focus all of your energy, not on fighting the old, but on building the new.